Same Day Music is an
authorized ADK dealer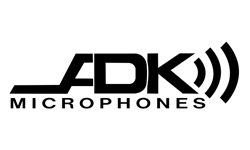 Bring your vocals and instruments forward in the mix, with sparkling hot detail. A brighter look at ADK's Audiophile S7, the ADK S7C is a professional transformerless FET cardioid condenser microphone designed to be a high-SPL, reliable and robust microphone with a distinctly brilliant sound coloration. The S7C has the brightest tone of any ADK!
ADK S7C Condenser Microphone Contents
- S7C Condenser Microphone
- Piano-Black Wooden Jewel Case
- Heavy-Duty All-Metal Ring-Mount
The dynamic range was set to allow for relatively heavy sound pressure levels, and the multi-way pad enables this microphone to be used with sources up to 150 dB SPL. You may never record a jet plane or a loud rock-concert, but you can with the S7C. ADK's S7 Mics can be used for Any moderate to high SPL source, whenever a fast, detailed recording desired.
ADK S7C Applications
- Pop and Rock vocals *
- Brass Instruments *
- Toms, Floor tom, overhead and spot mic'ing, including kick drum
- Amplified instruments including Guitar and bass cabs
- Percussion Instruments
- Stereo/ambient recording
- All stringed instruments
- Solo/spot recording
- Woodwinds
* Vocals and Brass instruments should be recorded with a pop filter to protect your capsule from strong blasts of air.
The S7C is a solid, reliable high-SPL studio microphone built for both live recording and reinforcement.
ADK Audiophile Series
ADK Audiophile Series are created for critical recording environments and fine acoustic sources. An affordable alternative to the super-expensive European mics, the Audiophile Series ADK Microphones have many European-sourced components and European designs. When your tracks really matter, ADK Audiophile Series delivers stellar performance at affordable prices.
Same Day Music is an authorized dealer of
ADK
products.
Polar pattern: Cardioid
Sensitivity: 12mv/Pa
Impedance: 150 Ohms
S/N Ratio: 79dB (A-weighted IEC 268-4)
Equivalent Noise Level: 15dB (A-weighted IEC 268-4)
Max SPL for 0.5%THD: 132dB/ 140dB/ 150dB (0dB PAD/-8dB PAD/-18dB PAD)
Low Cut filter (HPF): Flat/ 100Hz/ 150Hz
Power Requirements: Phantom power 48V+/-4V
Same Day Music is an authorized dealer of
ADK
products.