Same Day Music is an
authorized Adam Audio dealer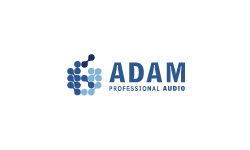 The brand-new A5 is the smallest scion of the ADAM Studio Monitors and technically a smaller brother of the A7. The A5 uses the same ADAM proprietary transducer technology (ART) and the same woofer consisting of a sandwich construction of carbon fiber and Rohacell(r), only reduced in size to 5-inch. The built-in amplifiers with 2 x 25 W power control the drivers directly.
On the rear side there is a panel with numerous possibilities to adapt the loudspeaker to the specific room acoustics or personal preferences. Also, the A5 features both balanced (XLR) and unbalanced (RCA) inputs to ensure connectivity to virtually any application in professional studios or at home. A useful special feature is the Stereo-link(r), an exclusive technology of the A5: There are two additional in- and outputs for the second stereo channel which enable the user to adjust the volume of both loudspeakers with one control only.
The A5 can also be delivered in high quality piano finishes (black and white). Last but not least, there are desktop/table stands available that also have been particularly designed to optimise the acoustics of the speaker (see A5 picture gallery).
ART (Accelerating Ribbon Technology)
The ART (=Accelerating Ribbon Technology) tweeters and midrange units take a completely new approach in kinematics to move air and improve the quality of music reproduction. Based on the original works of Dr. Oskar Heil, who invented his "Air Motion Transformer" back in 1972, new electroacoustic transducers have been developed that are based on improved layouts and new materials.
The membrane consists of a lamella like folded diaphragm whose single folds move according to the alternate current, thus squeezing air in and out. All other loudspeaker drive units, whether they are voice coil driven, electrostatics, piezos or magnetostatics, act like a piston, moving air in a 1:1 ratio. This is undesirable, as the specific weight of air is much lower than that of the driving mechanics. Speaking in terms of electrical Engineering one could say there is a bad match between source and load.
The ART principle achieves a 4:1 velocity transformation between driving diaphragm and driven air, i. e. the air moves in and out four times faster than the folds itself are moving. This superior "motor" is responsible for the enormous clarity and transient reproduction that is to be heard from the ART drive units.
Same Day Music is an authorized dealer of
Adam Audio
products.
Specifications
Woofer: 147mm (5.5 in.), Rohacell / Carbonfibre
Frequency Response: (+/- 3 dB) 55Hz - 35kHz
Panel: (Rear-mounted) Input/HF gain, Hi/Lo EQ
Built-in amps: 2 x 25W (RMS)
Inputs: Balanced XLR + Unbalanced RCA
Dimensions (W x H x D): 172 x 285 x 200mm (6.8 x 11.2 x 7.9 in.)
Weight: 5kg (11 lbs.)
Warranty: 5 years
Same Day Music is an authorized dealer of
Adam Audio
products.