Same Day Music is an
authorized Alesis dealer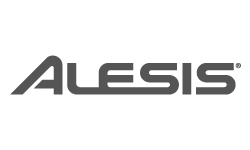 The Surge 12 inch Hi-Hat Cymbal is the world's first hi-hat cymbal with built-in electronic triggering. Whether you play with the tip or shoulder of the stick, on the edge or face of the Surge Hi-Hat, it feels the way you'd expect a cymbal to feel.
Made from genuine cymbal brass-alloy, Surge Cymbals have centuries of cymbal craftsmanship in their DNA, cross-bred with Alesis' decades of experience in electronic triggering technology.
Features
Genuine lathed, brass-alloy cymbal
Unique, patented design for maximum performance and acoustical sound reduction
Built-in piezo triggering for industry-wide compatibility
Incomparably realistic cymbal feel
Traditional cymbal design
True cymbal appearance
Mountable on standard cymbal stands
Compatible with most drum modules
Surge Cymbals are the world's most realistic-looking, accurately responding, and most importantly, natural-feeling cymbal triggers in the world. Not pads in any way, Surge Cymbals are true brass cymbals at their core with exclusive clear sound dampening to cut the cymbals' acoustic sound.
By employing industry-standard piezo triggers, Surge Cymbals are easy to use with any existing electronic drumset, replacing those uninspiring hard black cymbal pads. Because they are cymbals, they mount on any cymbal stand so they are easy to integrate into both electronic and acoustic drum setups using any sound module or trigger-to-MIDI converter.
Surge Cymbals are the only cymbals that integrate built-in electronic triggers with a custom brass alloy. They are the only choice for drummers who are serious about feel.
Also available: Surge 13 in. Crashes with and without choke capability and Surge 16 in. dual-zone Rides with and without choke capability.
*Manufactured under license from U.S. patent 7,323,632. Other patents pending.
Note: cables for connection to drum module are not included.
Same Day Music is an authorized dealer of
Alesis
products.