Same Day Music is an
authorized Attack dealer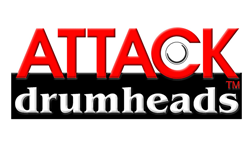 Noticeably louder than other ordinary single-ply heads. These use a glue-less technique which retains volume, sustain and the overall open sound with a bright, crisp attack. Great when you need a little "extra" projection.
Includes:
- 1 DHA12 1-ply medium clear 12"
- 1 DHA13 1-ply medium clear 13"
- 1 DHA16 1-ply medium clear 16"
- 1 DHA14C 1-ply medium coated 14"
- 1 DHNO22 1-ply no overtone 22"
Attack Drumheads
Attack Drumheads offers a complete line of artist quality drumheads in coated, clear, black, smooth white and Calf-Like finishes. Most models are available in single-ply (louder than ordinary heads) or double-ply, with the doubly-ply available in 3 different weights. The complete line of Terry Bozio single-ply signature heads made of Du-Pont Mylar S film are very popular, as are the double-ply counter parts. Carlie Adams, Jeff Ocheltree and Bobby Rondinelli offer select model signature heads. All Attack heads are made with a U.S. Duracoat coating and steel locking hoop guaranteed for life. Attack heads offer a complete line of heads for less than other brands.
Same Day Music is an authorized dealer of
Attack
products.