Same Day Music is an
authorized Audio-Technica dealer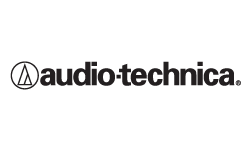 Audio-Technica's System 10 Stompbox digital high-fidelity guitar wireless system combines the advanced 24-bit operation, easy setup and clear, natural sound quality of other System 10 configurations with unique functionality for guitarists, bassists and other instrumentalists.
Operating in the 2.4 GHz range, far from TV and DTV interference, System 10 Stompbox offers a rugged, metal, pedal board-mountable receiver with foot switch, two switched TRS balanced 1/4" outputs and an output mode selector. With the tap of a foot, musicians can toggle between outputs (e.g., for switching amps) or mute and unmute one output without muting the other (e.g., for convenient tuning). And a single receiver can be paired with up to eight UniPak(R) body-pack transmitters, allowing users to easily switch between instruments without having to move a body-pack from one instrument to the next.
System 10 wireless ensures clear communications by providing three levels of diversity assurance: frequency, time, and space. Frequency Diversity sends the signal on two dynamically allocated frequencies for interference-free communication. Time Diversity sends the signal in multiple time slots to maximize immunity to multipath interference. Finally, Space Diversity uses two antennas on each transmitter and receiver to maximize signal integrity.
Each Stompbox system includes an ATW-R1500 Stompbox receiver, an ATW-T1001 UniPak body-pack transmitter with an AT-GcW guitar cable, and hook & loop strips for adding receiver to an effects pedal board. The ATW-R1500 is a digital receiver with sturdy, metal-body construction, easy-to-read digital ID and transmitter battery level displays, and AF Peak and Pair indicator lights.
Same Day Music is an authorized dealer of
Audio-Technica
products.
- Operating Frequencies: 2.4 GHz ISM band
- Dynamic Range: >109 dB (A-weighted), typical
- Total Harmonic Distortion: <0.05% typical
- Operating Range: 18.3 m (60') radius, 36.6 m (120') diameter typical
- Open range environment with no interfering signals
- Operating Temperature Range: 0* C to +40* C (32* F to 104* F)
- Battery performance may be reduced at very low temperatures
- Frequency Response: 20 Hz to 20 kHz
- Depending on microphone type
Receiver Specifications:
- Receiving System: Diversity (frequency/time/space)
- Maximum Output Level: 1/4" (6.3 mm), TRS balanced: +12 dBV
- Power Supply: 100-240V AC (50/60 Hz) to 12V DC .5A (center positive) switched mode external power supply
- Dimensions: 101 mm (3.98") W x 44 mm (1.73") H x 130 mm (5.12") D
- Net Weight: 565 grams (19.9 oz)
- Accessories Included: Power supply, hook & loop fastener x2
Body-Pack Transmitter Specificaitons:
- RF Power Output: 10 mW
- Spurious Emissions: Following federal and national regulations
- Input Connections: Four-pin Locking Connector
- Pin 1: GND
- Pin 2: INST INPUT
- Pin 3: MIC INPUT
- Pin 4: DC BIAS +9V
- Batteries: Two 1.5V AA
- not included
- Battery Life: >7 hours (alkaline)
- Depending on battery type and use pattern
- Dimensions: 70.2 mm (2.76") W x 107.0 mm (4.21") H x 24.9 mm (0.98") D
- Net Weight: 100 grams (3.5 oz)
- without batteries
- Accessory Included: AT-GcW Guitar Input Cable
Same Day Music is an authorized dealer of
Audio-Technica
products.
Shipping Weights and Dimensions

Shipping Weight: 3 lbs
Shipping Dimensions: 14 x 7 x 3 in