Same Day Music is an
authorized Behringer dealer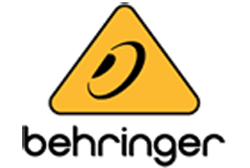 Whether you're mixing a recording, monitoring a bass line or just enjoying an MP3, you want your headphones to deliver a wide frequency response and high dynamic range. The Behringer HPM1000 headphones provide incredible performance for a price well within any budget.
Features:
- Ultra-wide frequency response
- High dynamic range
- High-resolution capsules
- 1/8-inch connector plus 1/4-inch adapter included
- Single-sided cord
- Oval-shaped ear cups
- Comfortable headband
- High-quality components and exceptionally rugged construction ensure long life
- Conceived and designed by Behringer Germany
Blow Your Mind
The Behringer HPM1000 provides everything you need for comfortable listening. The oval-shaped ear cups contain high-resolution capsules that deliver every nuance of your sound. It has a single-sided cord to avoid tangling, a comfortable headband, and a 1/4-inch adapter for the 1/8-inch connector, making it compatible with everything from your MP3 player to your mixing console.
Just Listen...
With the Behringer HPM1000 headphones, you get truly exceptional sound reproduction at a price that will leave money in your pocket for more tunes!
The HPM1000 multi-purpose headphones provide semi-pro-level users with an incredible performance unheard of in this price category. They feature an ultra-wide frequency response, high dynamic range, a high-resolution capsule and oval-shaped ear cups with a comfortable headband.
Same Day Music is an authorized dealer of
Behringer
products.
- Frequency response: 20 Hz - 20 kHz
- Max. power handling: 100 mW
- Impedance: 32 Ohm
- Sensitivity: 105 dB at 1 kHz
- Cord length: 2.0 m
- Connector: Stereo miniplug connection with 1/4 in. adapter.
Same Day Music is an authorized dealer of
Behringer
products.
Shipping Weights and Dimensions

Shipping Weight: 1 lbs
Shipping Dimensions: 10 x 8 x 4 in
Incredibly affordable full-size headphones@Oval full-coverage padded ear cups@Padded headband@Single-sided cord
Same Day Music is an authorized dealer of
Behringer
products.