Same Day Music is an
authorized Moog Music dealer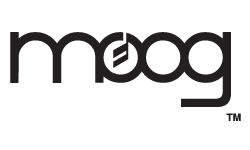 The moogerfooger Ring Modulator multiplies an audio input and a carrier oscillator to produce sum and difference frequencies. The unit has a wide-range carrier oscillator (2 Hz to 4 kHz in 2 ranges) and a dual-waveform LFO (0.1 Hz to 25 Hz, sine and square waveforms). The control parameters are signal mix, carrier frequency, LFO rate, and LFO amount, all of which may be voltage-controlled as well as panel-knob-controlled. Panel switches select carrier oscillator range and LFO waveform. Moog provides 1/4 in. TRS jacks for pedal/control inputs, auxiliary audio input, and LFO and carrier oscillator outputs.
Features
- Frequency rotary control, which varies the carrier frequency over a 6-octave range
- Rate rotary control, which varies the LFO's frequency from 0.1 Hz to 25 Hz.
- LFO Amount rotary control, which adjusts the amount that the LFO output sweeps the carrier oscillator
- Mix rotary control, which crossfades continuously from unmodulated to modulated audio
- Drive rotary control, which adjusts the gain of the audio input
- Square-Sine rocker switch, which chooses the LFO waveform
- Lo-Hi rocker switch, which chooses between the low frequency carrier range (2 Hz to 130 Hz) and the high frequency carrier range (60 Hz to 4,000 Hz)
- Level, a 3-color LED that is used to set the Drive control
- LFO, a LED that indicates the LFO rate
- Bypass, a 2-color indicator LED that tells whether the filter is on or bypassed
- On/Bypass, a rugged, smooth-acting 'stomp switch'
- Audio In 1/4 in. phone jack: accepts any instrument-level or line-level audio signal from -16 dBm to +4 dbm
- Audio Out 1/4 in. phone jack: -4 dBm nominal output level
- Frequency, Rate, LFO Amount, Mix, all of which are stereo 1/4 in. jacks that accept moogerfooger EP1 (or equivalent) expression pedals, or control voltages from 2-circuit or 3-circuit 1/4 in. jacks.
- Aux Audio In: provides a means of applying an external signal to the ring mdulator, in place of the carrier oscillator
- LFO Out jack: delivers the LFO voltage for use by other voltage-controlled devices.
- Carrier Out jack: delivers the carrier signal for use by other devices
- +9V Power Input jack: accepts standard 9 volt power adapters (power adapter included)
About Moog Music
Big Briar, Inc., the company founded by Robert Moog in 1978 announces it is now doing business as Moog Music Inc. The new name reflects the legacy of Dr. Moog and his many years designing synthesizers, theremins, and other electronic music products. Moog Music will continue to support products with the Big Briar moniker. The company's newest product, Minimoog Voyager, will feature the Moog Music name and logo.
Moog Music is an Asheville, NC based company bearing the name of owner and Chief Technical Officer, Robert Moog. The current incarnation of Moog Music started as Big Briar, the company founded by Dr. Moog in 1978. Big Briar became Moog Music in 2002 after Dr. Moog reacquired the Moog Music trademark.
Moog Music is a company made up of musicians, business professionals, and technicians who work together to bring you some of the finest electronic music gear on today's market. Moog draws on a long tradition of analog design to build instruments with great sound, musician-friendly user interfaces, and rugged, good-looking classic-style enclosures.
Current product lines include Etherwave and Ethervox theremins, Moogerfooger Analog Effects, and Minimoog Voyager Analog Synthesizers.
All Moog Music products carry a full one-year warranty against faulty parts or workmanship, in the absence of obvious neglect or abuse. Take care of it and they'll take care of you!
Same Day Music is an authorized dealer of
Moog Music
products.