Same Day Music is an
authorized Casio dealer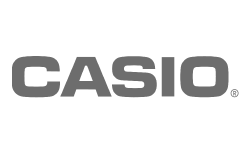 The LK-100, 61 Key Musical Keyboard, allows you to select from 100 tones and 50 versatile rhythms to help add plenty of life to all your keyboard performances. The Auto Accompaniment will allow you to simply play a chord and the corresponding rhythm, bass and chord parts play automatically.
This keyboard also includes the 3-Step Lesson System that lets you practice at your own pace. The keyboard automatically grades your performances, so you can trace your progress as you improve.
With a total of 100 built-in Song Bank tunes you have a broad range of music for your playback enjoyment or for play along practice.
Optional Premium Pack
Includes: Stand and Power Supply
On-screen fingering and timing indicators
Easy-to-understand on-screen indicators help to simply keyboard play, even for novices.
100 amazingly realistic tones
Enhanced auto-accompaniment function for greater versatility.
50 built in auto-accompaniment patterns.100 Built-in Song Bank tunes
A total of 100 built-in Song Bank tunes come built in for playback enjoyment or play-along practice.
3-Step Lesson System
Develop your musical skills by following the keys as they light. First, you become familiar with the timing of the notes by watching the keys light as you playback one of the 100 built-in Song Bank tunes. Next, practice playing along at a pace that's comfortable for you. Finally, try playing along at the normal tempo for the Song Bank tune. A simulated human voice is used during Step 1 or Step 2 play to call out the fingers you should use to play the required notes (Voice Fingering). The timing of notes is also indicated on the display screen.
Auto Accompaniment
Simply specify a chord and the keyboard automatically produces the matching rhythm, bass, and chord patters. One-touch fill-ins make accompaniments sound interesting and natural.
Transpose Function
An easy operation instantly changes the key of the keyboard.
MIDI compatibility
Connecting to another MIDI device lets you sound notes on both this keyboard and the connected device by playing on this keyboard.
Microphone Jack
Connects a commercially available microphone and you can sing along with Song Bank tunes (microphone sold separately).
Power Supply:
AD-5 (Not Included)* or 6 AA Batteries (Not Included)
Same Day Music is an authorized dealer of
Casio
products.
Keyboard: 61 Standard-size keys, 5 octaves
Key Light System: Can be turned on and off (up to 10 keys can be lit at the same time)
Tones: 100 presets
Polyphony: 12 notes maximum
3-Step Lesson Number of simultaneously lit keys, 4, 3-Steps
Playback: 1 tune repeat playback
Voice Fingering Guide: On/Off
Auto Accompaniment
Rhythm Patterns: 50
Tempo: Adjustable, (216 steps, notes = 40 to 255), initial value, 120
Chords: 2 systems; Casio Chord, Fingered
Other: Fill-in pattern, synchro start
Song Bank Tunes: 100 tunes
Musical Information Function: Tones, Auto Accompaniment, Song Bank numbers and names, tempo; 3 step lesson display, chord name, fingering, timing indicator, key lighting, voice fingering
Other Functions
Transpose: F# to C to F: half-note
Tuning: Adjustable A4 = approximately 440Hz +/-50Cents, Initial value: A4 = Approximately 440Hz
MIDI 5 multi-timbre receive
Speakers: 10 cm diameter x 2 (Output: 2W + 2W)
I/O Terminals
MIDI Terminals: In, Out
Sustain: Standard jack
Power Supply: DC 9V jack
Headphones/Output: Stereo standard jack (Output is monoaural.)
Output Impedance: 78ohms
Output Voltage: 4.5V (RMS) MAX
Microphone In: Standard jack
Input impedance: 2K ohms
Input sensitivity: 10mV
Power Supply 2-way
Batteries: 6 AA-size batteries
Battery Life: Approximately 4 hours continuous operation on alkaline batteries
Approximately 1 hour continuous operation on manganese batteries
AC Adaptor: AD-5
Auto Power Off: Turns power off approximately 6 minutes after last key operation. Enabled under battery power only, can be disabled manually
Power Consumption: 9V...7.7W
Dimensions: 94.5 x 37.3 x 13.5cm (37 1/4 x 14 11/16 x 5 5/16 in.)
Weight: Approximately 4.7kg (10.4 lbs) (without batteries)
Power Supply:
AD-5 (Not Included)* or 6 AA Batteries (Not Included)
*Optional AC Adapter: AD-5 (only included with "Premium Pack" option)
Same Day Music is an authorized dealer of
Casio
products.