Same Day Music is an
authorized DigiTech dealer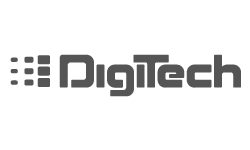 The DigiTech GSP1101 rack is packed with some of the greatest features that are only possible through the legendary technology of DigiTech. One of the most requested products has been for DigiTech's amp modeling, tones, effects, presets and incredible usability to be placed in a rack. We have not turned a deaf ear and the proof is in the proverbial pudding. Along with computer connectivity and the ability to interface with all of your existing gear will make this rack the flagship of all your guitar playing wants, needs and dreams!
Features
Intuitive user interface with dedicated amp controls and LCD display
Over 120 amp, cabinet, preamp and effects models including vintage stompboxes and pickup modeling
Stereo effects loop
40 Tone and 40 Effect Chain Libraries -- 1600 exclusive DigiTech combinations
Global EQ
Balanced stereo XLR and 1/4-inch outputs
Chromatic tuner
USB with audio streaming + Editor/Librarian software included
MIDI In / Thru
Internal power supply
Front panel guitar input and headphone output
Footswitch and expression inputs
Effects
Chorus Stompbox Models based on:
Boss(R) CE-2 Chorus
DigiTech Dual Chorus
DigiTech Multi-Chorus
TC Electronics(R) Chorus
Flanger Models based on:
MXR(R) Flanger
DigiTech(R) Triggered Flanger
Electro Harmonix(R) Electric Mistress(TM)
Phaser Models based on:
MXR(R) Phase 100
DigiTech(R) Phaser
Electro Harmonix(R) Small Stone(TM)
Pitch Models based on:
DigiTech(R) Whammy(TM)
DigiTech(R) Pitch Shift
DigiTech(R) Detune
DigiTech(R) IPS
Boss(R) OC-2 Octaver(TM)
Vibrato / Rotary Models based on:
DigiTech(R) Vibrato
DigiTech(R) Rotary
DigiTech(R) Vibro / Pan
Unicord UniVibe(TM)
Tremolo Models based on:
DigiTech(R) Tremolo
DigiTech(R) Panner
Fender(R) Opto Tremolo(TM)
Vox(R) Bias Tremolo
Envelope / Special Models based on:
DOD(R) FX25 Envelope Filter
DigiTech(R) Auto Yah(TM)
DigiTech(R) YaYa(TM)
DigiTech(R) Synth Talk(TM)
DigiTech(R) Step Filter
Digital Delay
Analog Delay
Pong Delay
Modulated Delay
Tape Delay
4 Lexicon(R) Reverbs
Fender(R) Twin Reverb(TM)
EMT(R) 240 Plate Reverb
Same Day Music is an authorized dealer of
DigiTech
products.