Same Day Music is an
authorized EBS dealer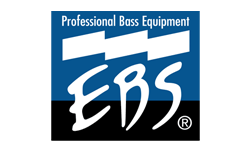 For their 25th anniversary, among other great products, EBS releases the Billy Sheehan Bass Overdrive pedal for bassists who want to add extra meat to their bass tone. Complete with drive, tone, level and compression controls, the Sheehan Overdrive offers a dual loop input and an all analog design for an assortment connection options and tonal possibilities.
Features:
- Overdrive and Compression
- Dual Loop Input (Drive/Clean)
- EQ Control
- All Analog Design
- Mechanical Switching
Same Day Music is an authorized dealer of
EBS
products.
Nominal Input Level - 8 dBv
Input Impedance 700 kohms
Gain Range Drive 20 - 40 dB
Tone Filter Range 175 - 4500 Hz
Q 0.6
Nominal Loop Level -8 dB
Output Impedance Loops 2 kohms
Input Impedance Loops 47 kohms
Mix Level Drive Channel +3 dB max
Clean Channel +6 dB max
Compressor Ratio 5:1 (max)
Threshold -25 +6 dB
Attack Time (80%) < 10 ms
Release Time (80%) 100 ms typ
Makeup gain 0, +3, +6 dB
Output Impedance < 100 ohms
Dimensions W x H x D 3.5" x 4.5" x 1.4" (90 x 115 x 35 mm)
Weight 480g (1.07 lb.)
Type Analog Effect, Mechanical Switching
Power Requirements 9 - 12 V DC Regulated, 15 mA max*
Same Day Music is an authorized dealer of
EBS
products.
Shipping Weights and Dimensions

Shipping Weight: 2 lbs
Shipping Dimensions: 6 x 5 x 3 in