Same Day Music is an
authorized EVH dealer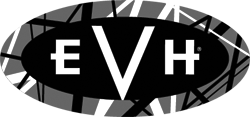 Loaded with pure EVH Eddie Van Halen sound and power, the EVH Eddie Van Halen 5150 III 50-watt Head is a scaled-down version of its acclaimed 100-watt big brother-the mighty 5150III head-with many of the same great features. Its smaller size and portability make it a perfect amp for players who want arena volume, tone and performance in a compact package. It pairs perfectly with the EVH 5150 III 2x12 and 1x12 cabinets, in addition to the current EVH 5150 III 4x12 cabinet.
It's a three-channel amp; channels one and two share EQ, with gain, low, mid, high and volume controls; channel three has gain, low, mid, high, volume and master presence and resonance controls. Other features include selectable impedance (4, 8 or 16 ohms), dual parallel speaker output jacks, effects loop, headphone jack, line out and black hardware. Included four-button footswitch has 1/4 inch input jack; also accommodates MIDI footswitching. Available in Black and Ivory textured vinyl covering with black EVH-striped grille.
Features
- 4-button footswitch with 1/4 in. cable input with fast switching
- MIDI input that can be used to control channels and effects loop with virtually any MIDI device
- 3 foot heavy duty speaker cable
Same Day Music is an authorized dealer of
EVH
products.
- Wattage: 50-watt
- Effects Loop: Yes
- Inputs: Front Panel Instrument 1/4 in. Mono Jack (Insert)
- Headphone Jack: 1/4 in. Stereo Jack
- Line Out: Line Out Jack
- Extension Speaker Jack: 2 Parallel Speaker Output Jacks
- Channels: 3, Channel 1 and 2 Share EQ
- Controls: Master Presence, Channel 1 and 2: Gain, Low, Mid, High, Volume; Channel 3: Gain, Low, Mid, High, Volume, Master Resonance Control (rear panel)
- Hardware: Black
- Cabinet Material: Plywood
- Pilot Light Jewel: Red LED Jewel
- Handle: Black Strap
- Front Panel: Black EVH Striped Steel
- Cover/Grill Cloth: Black or Ivory Textured Vinyl Covering with Black EVH Striped Steel Grille
- Input Impedance: >1M ohms
- Output Impedance: 4, 8 or 16 ohms (Selectable)
- Amplifier Length: 12" (30.4 cm)
- Amplifier Width: 20" (50.8 cm)
- Amplifier Height: 8.5" (21.6 cm)
- Amplifier Weight: 35 lbs. (15.9 kg)
- Preamp Tubes: 7 JJ ECC83 (12AX7)
- Power Tubes: 2 JJ 6L6
- Footswitch: 4-Button Footswitch Included
Same Day Music is an authorized dealer of
EVH
products.
Shipping Weights and Dimensions

Black

Shipping Weight: 45 lbs
Shipping Dimensions: 25 x 17 x 13 in

Ivory

Shipping Weight: 45 lbs
Shipping Dimensions: 29 x 17 x 15 in