Same Day Music is an
authorized Gemini dealer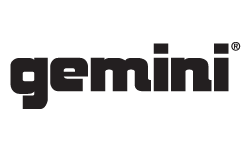 The Gemini UHF216HL Dual Headset and Lapel Wireless Microphone System provides remarkable versatility thanks to its two convertible headset/lavalier mics. If you want hands free performance in a high quality, UHF system at a great price, look no further than the UHF216HL wireless mic system. With multiple frequencies, as well as dual receivers and transmitters with a range of up to 250 feet, this wireless systems provide clear sound over sixteen selectable frequencies for optimal transmission with no interference.
The UHF-216HL system offers a solution for nearly any application, whether you're performing as a lead singer, making a presentation, DJing a wedding or leading a fitness class! The included two single-channel body-pack transmitters operate on different frequencies that transmit to dual receivers housed in one unit. There's even individual level control for each channel.
This Gemini system includes two convertible headset/lavalier mics and two belt pack transmitters, making it perfect for presenters, public speakers, DJs and fitness instructors. For total comfort, the headsets are lightweight and discreet with soft padding, plus the microphones come with foam screens to limit popping and reduce wind noise during outside operation.
Using Phase Locked Loop (PLL) circuitry to prevent phasing issues that plague other wireless systems, the receivers also boast LED indicators for Power and Channel, along with rotary Volume control for each channel. Plus, Channel Selector Pins on the receivers and transmitters allow you to set the desired frequency quickly and easily. For convenient control over your audio, the belt pack transmitters also feature Mute switches, allowing you to swiftly silence the audio signal when you don't want your vocals heard.
Features:
- 16 selectable frequencies ensures interference free operation
- Includes two headset/lapel convertible mics with body-packs
- Individual level control for each mic
- Phase Locked Loop circuitry prevents phasing issues
- Perfect for DJ's, public speakers, singers, fitness instructors and more
Same Day Music is an authorized dealer of
Gemini
products.