Same Day Music is an
authorized IK Multimedia dealer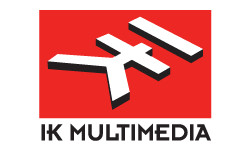 Save money and get everything you need for music production with the IK Multimedia Total Studio 3 Music Software Bundle! With the Total Studio 3 Bundle you receive: SampleTank 2.5 XL, Sonik Synth 2, Miroslav Philharmonik, SampleTron, SampleMoog, AmpliTube 3, and T-RackS 3 Deluxe, plus 15GB of Xpansion Tank Instruments. This incredible package saves you loads of money and is your one stop shop for all your production and recording needs!
SampleTank 2.5 XL
IK Multimedia SampleTank 2 XL is a full-featured sample playing beast with enough power under the hood to make any audio pro blush. With more than 1,700 sounds included for free, IK Multimedia SampleTank 2 XL is also ready, right out the box, to take on your songwriting project regardless of your style or genre.
Sonik Synth 2
The IK Multimedia Sonik Synth 2 synth workstation plug-in gives you incredibly powerful tools to create, arrange, write, and produce. You get over 5,000 sounds onboard Sonik Synth 2, which includes 8GB of amazing instruments (both modern and vintage). This virtual synth gives you analog, digital, wavetable, additive, granular, FM, modeling, and more, with a huge array of classic synths and keyboards packed in. You also get drums, percussion, orchestrial and ethnic instruments, and more, making this plug-in your one-stop shop for sounds.
Miroslav Philharmonik
Miroslav Philharmonik is a powerful integrated Orchestral Workstation combining the legendary Miroslav Vitous Orchestral and Choir sample collection masterpieces with a dedicated plug-in instrument specifically tailored toward classical sounds and arrangements.
SampleTron
IK Multimedia's SampleTron boasts a collection of virtual vintage Mellotrons, Chamberlins, Optigans, Orchestrons, and more. SampleTron includes samples of rare 'Trons' expertly sampled for artists like Tom Waits, Crowded House, Smashing Pumpkins and many others.
SampleMoog
Moog has done more for modern synthesis that virtually anyone else, and IK Multimedia honors that legacy with SampleMoog, a collection of over 2,000 Moog basses, leads, pads and effects. Available sounds run the gamut from the very first Moog Modular systems to rare Minimoogs to Taurus Bass Pedals, Polymoogs, Memorymoogs and more. SampleMoog sounds can be read by SampleTank and boasts a 16-part multi-timbral sample-based synth, allowing extremely complex synth layering and amazing manipulation possibilities.
AmpliTube 3
You'll be absolutely blown away by the 160-plus vintage and modern amp models you get in IK Multimedia's Amplitube 3. And the fun doesn't stop there! The amazingly powerful Amplitube 3 also gives you 30 vintage gear models and five creative effects; you can virtually stomp on or rackmount effects such as StepFilter, TapDelay, StepSLicer, Rezo, and Swell.
Amplitube 3 also makes it easier than ever to put your sounds together, thanks to drag-and-drop configurations, improved preset organization, and both mono and stereo signal paths. This awesome software even has a cool rotary speaker model that's sure to make your head spin!
T-RackS 3 Deluxe
The IK Multimedia T-RackS 3 Deluxe mastering and mixing software bundle gives you the tools you need to make your projects shine! T-RackS 3 Deluxe builds on the legacy of the fantastic T-RackS software, adding five great processors for a total of 10 incredible mixing and mastering tools! Whether you're looking for clean clarity or rich analog character, this bundle has you covered.
Features:
- SampleTank 2.5 XL is a powerful and easy-to-use solutions for making fully produced songs
- Sonik Synth 2 is a complete integrated sound module plug-in with unique features
- Miroslav Philharmonik is a workstation focused on orchestral instruments, ensembles and choirs
- SampleTron combines the authentic recreation of Tron sounds with the powerful SampleTank engine
- SampleMoog includes the sounds of all the most sought-after vintage and modern Moog synths
- AmpliTube 3 is the leading guitar and bass tone gear modeling software
- T-RackS 3 Deluxe gives you high-end DAW mastering and mixing tools
- Plus 15GB of Xpansion Tank Instruments
Same Day Music is an authorized dealer of
IK Multimedia
products.
System Requirements:
- Supported Computer Format: Mac, PC
- Supported Plug-In Formats: Standalone, RTAS, VST, AU
- Hardware Requirements:
-- Mac: Dual Core G4 1GHz CPU or faster, 1GB RAM
-- PC: Pentium 4 or Athlon XP CPU, 1GB RAM
- OS Requirements:
-- Mac: Mac OS X 10.4
-- PC: Windows XP or later
Same Day Music is an authorized dealer of
IK Multimedia
products.
Shipping Weights and Dimensions

Shipping Weight: 1 lbs
Shipping Dimensions: 10 x 8 x 3 in