Same Day Music is an
authorized Ion Audio dealer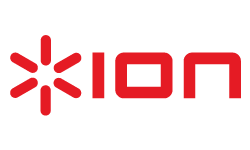 The Ion Audio Karaoke Pro is all you need to turn your iPad into a full on Karaoke setup. The Karaoke Pro iPad karaoke system is a complete portable karaoke sound system for your iPad, featuring a powerful speaker, amplifier, audio inputs and a cradle for your iPad. Karaoke Pro features an adjustable echo effect to give your vocals that professional polish, the Free karaoke app downloadable from iTunes provides an ever expandable library of music that allows easy download of new songs to your iPad wherever you go.
Indoors or out, you can rely on Karaoke Pro for more than 12 hours of clean, clear audio thanks to its internal, rechargeable battery. The system doesnt just do karaoke either - its flexible enough to use as a portable instrument amplifier or powerful music playback system as well, thanks to its inputs designed to handle a guitar, microphone or CD/MP3 player. Just plug in, turn up and enjoy.
Sturdy aluminum and wood construction and a portable design with wheels and telescoping handle ensure that youll be singing with your iPad and Karaoke Pro anywhere and everywhere for years to come!
Features
- Complete karaoke speaker system for iPad
- Includes FREE app download for iPad with access to thousands of your favorite songs
- Adjustable echo effect for professional vocal sound
- High-quality microphone included
- App download supports MP3+G song files and expandable playlists
- Integrated cradle securely holds your iPad in landscape or portrait orientation
- Up to 12 hours of use thanks to built-in rechargeable battery
Includes:
- Karaoke Pro
- Microphone
- Quickstart guide
- Power cable
Same Day Music is an authorized dealer of
Ion Audio
products.