KRK 12SHO Studio Active Subwoofer
Web Item #KRKKRK12SHO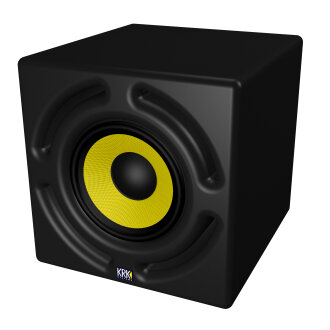 More Resources
KRK Warranty:
KRK Warranty
KRK products are warrantied for a period of one year for mechanical defects and three years for defects in amplification.
If you have additional warranty questions, please call the manufacturer at 1-800-444-2766
60-Day Return Policy Applies on This Item - Get it shipped today and if it isn't perfect, send it back!
Payment Options We DO NOT COLLECT TAX except on orders shipped to New Jersey.
Recommended Accessories for KRK 12SHO Active Studio Subwoofer
KRK 12SHO Active Studio Subwoofer Product Description
Same Day Music is an
authorized KRK dealer

The KRK12sHO powered subwoofer is the perfect High Output choice for professional studios, where ultra-accurate bass extension and maximum sound levels are required. Powered by a massive 400 watt amplifier and a strengthened version of the signature Kevlar woofer, the KRK12sHO is the no-compromise way to hear what is happening in the depths of your mix. Subwoofers allow you to use smaller main monitors, make it possible to monitor the essential low frequency range and can be a great solution for space-challenged control rooms or mixing environments.
While subsonic frequencies are heavily implemented in some musical genres, all studios benefit from the use of a sub to monitor this low frequency content. With the prevalent use of home theater systems, as well as commercial systems in clubs and cinemas - production studios require the capability to identify and correct problems such as unwanted low frequency components, exterior noise, microphone rumble and vibrations. The increase of home and project mastering means many potentially great pieces of music are being poorly represented when played back on a larger system. When dealing with subsonic frequencies if they cannot be heard accurately they cannot be mixed accurately.
Having an incredibly capable subwoofer is critical when it is combined with powerful near-field monitors, such as the Expose or a VXT8 driven to high sound pressure levels. In a stereo configuration the subwoofer will have to produce the bass that would normally be generated by the monitors -- that alone can exceed the headroom of an ordinary sub. In a surround sound configuration the subwoofer has to reproduce all of the low-frequency information from five or more channels as well as the demanding bass content of the LFE channel. These challenging applications can place demands far exceeding the capabilities of normal low frequency drivers and power amplifiers. This is where the performance of the KRK12sHO shines.
Features:
- Curved Baffle Curved front plate design virtually eliminates diffraction distortion
- Front-firing Port provides low frequency extension while reducing boundary coupling and the unique shape is optimized to avoid port turbulence
- Bypass Footswitch Control allows you to defeat the sub and provide full range audio to your recording monitors for use with a standard latching 1/4 inch mono footswitch
- Kevlar 12" Driver - High Excursion woven Kevlar driver cone
- Thermal and Overload / Clip Protection to prevent damage
- Input Sensitivity on rear of unit allows a high resolution gain range, labeled are positions for MUTE, +6dBu and -8dBu
Same Day Music is an authorized dealer of
KRK
products.
KRK 12SHO Active Studio Subwoofer Technical Description
- Drivers:12" High Excursion Woven Kevlar Woofer
- Frequency Response: 29Hz - 60Hz to 160Hz Variable LP / 80Hz Fixed HP
- Max Power: 400W RMS - 116dB
- Low Pass Filter: 60Hz - 160Hz Variable
- High Pass Filter: 80Hz Fixed
- Maximum SPL @ 1m: 113dB Music and 116dB Peak
- Combi-Jack Inputs: (L/R/LFE)
- LFE Input Gain: Fixed +10 dBu
- XLR Outputs: (L/R)
- Power In: IEC Mains Connector
- Input Sensitivity: MUTE / +6 / -8dBu
- LED Power Indicator: (Logo - Yellow Triangle)
- Line Out Bypass: Switched 1/4" Input
- Variable Low-Pass Adjust: 60Hz-160Hz
- Phase Reverse switch: 0/180 degrees
- Phase Adjust: Variable
- Ground Lift switch: Lift / Ground
- Limiter: On/Off

Same Day Music is an authorized dealer of

KRK

products.
User Reviews for KRK 12SHO Active Studio Subwoofer