Same Day Music is an
authorized Kustom dealer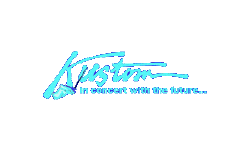 Kustom ushers in a new era in guitar amplification with The Defender 112, an EL-34 or 6L6-powered, 50-watt tube combo amp that provides an intoxicating blend of smoking tones and special, boutique-style features.
To maximize the amp's classic tone, The Defender 112 is built of solid Pine and utilizes a Plywood Baffle Board. All-Pine construction gives the amplifier a rich, resonant tone that will inspire any lover of historic tube amps. The cabinet is covered in high-quality black Tolex with a raised stitching pattern, similar to a motorcycle seat.
Another important element of The Defender's special tone is an exclusive new preamp that operates unlike any other on the market. Called Duo-Mod(tm), the proprietary Kustom circuit utilizes traditional Volume and Master Volume controls, but that's where the similarity ends.
Here's how it works: When turning the Volume control down to get cleaner tones, the Duo-Mod circuit progressively reduces gain in multiple locations throughout the preamp, unlike competitive amplifiers. The result is stunning clarity throughout the Gain control's entire range. In other words, clean tones get cleaner and medium-gain tones stay chunkier and dynamic, while not sacrificing their higher-gain potential.
In the medium-to-high gain ranges, the Kustom Duo-Mod circuit progressively adds gain in multiple locations throughout the preamp. The result is smoking hot rock tones with punch and clarity that set it apart from the competition. In essence, the Kustom Duo-Mod circuit produces a wide variety of tones from a deceptively simple one-channel amplifier without the need for additional gain switches or controls.
Another first: The Defender's Master Volume doesn't merely control the overall amplifier level. It also optimizes the amp's overall EQ to produce perfectly tweaked tonal results no matter how the input Volume and Master Volume controls are set. For example, when the input Volume is cranked for distortion and the Master is set lower, the amp's midrange and high-end are adjusted to eliminate any harshness. This system lets players make large changes in gain settings with minimal adjustments of tone controls.
For added flexibility, there is also a Master Volume Bypass switch, which lets players entirely disable the Master from the circuit to achieve the penetrating tone and headroom of vintage, non-Master type amplifiers. It's perfect for players who like to use outboard overdrive and distortion boxes to spice up their sound. For even more power amp gain, a variable Power Amp Boost control provides up to 10db of footswitchable volume that is perfect for making guitar solos stand out in the mix.
Features include two EL34 output tubes, three 12AX7 preamp tubes, a 12-inch Kustom(r) speaker and a Bright switch that provides either a fuller, American-style bass response or a tighter, British flavored low-end. A player's preference of either EL34 or 6L6 power tubes may be used in The Defender, thanks to a switch which adjusts the amp's bias circuitry accordingly - perfect for guitarists who like to experiment with their tonal options.
A classic spring reverb circuit provides everything from a warm, ambient effect to an all-out cavernous wash of sound.
Same Day Music is an authorized dealer of
Kustom
products.
RMS Wattage: 50 Watts
Speaker: 1 x 12 in. Kustom-Eminence KEI
Cabinet: All-Pine w/ Birch Baffle
Channels: One w/ Master & Boost
Tube Preamp: 12AX7
Tone Controls: Bass, Middle, Treble, Presence
Pull Bright Function: Bright Switch
Power Tubes: x2 EL-34 or 6L6
Reverb: Spring Unit
Tremolo/Vibrato: No
Dual Master Volume: No
Master Control: Yes (w/ bypass switch)
Variable Boost: Footswitchable
Effects Loop: No
Direct Out: No
Footswitch: Optional
Dimensions (H x W x D): 19.75 x 23.5 x 10.5 in.
Dimensions (H x W x D): 502 x 597 x 267 mm
Weight: 37.5 lbs/ 17 kg
Same Day Music is an authorized dealer of
Kustom
products.