Same Day Music is an
authorized Luna dealer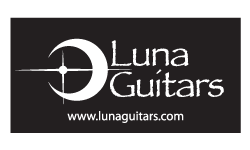 Luna Guitars' iridescent Hummingbird hovers at the sound hole drawing nectar from a pink abalone flower. It's petite parlor size body includes a B-band preamp system and, like its namesake, is powerful beyond expectation.
The hummingbird is a symbol of love, joy, and beauty. When the hummingbird hovers over flowers while drinking nectar, people learn that they should savor each moment, and appreciate the things they love. It reminds us that if they find joy in what they do, they become light as a feather, and life is rich with nectar.
The hummingbird is also a symbol of great strength as they are able to hover for as much as 50 minutes in one place. Because of this, it symbolizes the ability to accomplish the seemingly impossible.
Complimenting the design effort is the inclusion of a state-of-the-art B-Band preamp tuner that maintains the intimate and natural acoustic tonal quality of these fine instruments.
Same Day Music is an authorized dealer of
Luna
products.
- Top: Quilted Maple
- Back & Sides: Maple
- Body: Parlor
- Neck: Mahogany
- Fretboard: Rosewood
- Tuners: Diecast satin
- Preamp/Tuner: B-Band
- Scale: 25 1/2"
- Nut Width: 1 5/8"
- Finish: Clear
- Dimensions: 39 x 14 7/8 x 3 2/3"
Same Day Music is an authorized dealer of
Luna
products.