Same Day Music is an
authorized Mapex dealer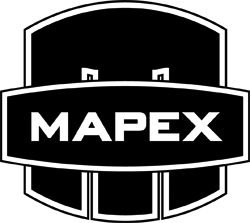 The Armory Series is a great realization of the Mapex hybrid shell concept. A fusion of birch and maple delivers the ultimate tonal expression, and the SONIClear bearing edge allows the drumhead to sit flat, bringing out the best response by optimizing the relationship between head and shell.
The Birch/Maple/Birch 6-Ply 7.2 mm shell with the SONIClear Bearing Edge allows for the direct transmission of sound, reduces unwanted frequencies and provides a strong fundamental pitch and an effortless tuning experience especially at lower tunings.
This 6-piece shell pack includes 10 and 12 inch stand mounted rack toms, 14 and 16 inch floor toms, 14" snare drum and a 22"x18" kick.
The SONIClear tom suspension and floor tom feet increase overall resonance by preserving vibration in the shell and keeping stress away from the tension rods, helping the heads stay in tune
Features:
- 6 Ply Birch / Maple / Birch
- SONIClear Edge
- Focused, Tonal, and Responsive
- SONIClear Tom Suspension
- MyDentity Lug
- Included Armory Tomahawk Snare Drum
Same Day Music is an authorized dealer of
Mapex
products.
Optional Drum Pack Includes the following:
MAP T750A Mapex T750A Drum Throne Spin Up Double Braced Base
KIC KPK1MFS KickPort Plus Pack Port/D Pad Pack Black 1
MAP HP6005EB Mapex Mars Black Hd Pak B600/B600/H600/P600/S600
-
Mapex Armory Shell Pack:
(22 x 18, 10 x 07, 12 x 08, 14 x 12, 16 x 14, 14 x 5.5 in.)
Same Day Music is an authorized dealer of
Mapex
products.
Shipping Weights and Dimensions

Magna Red

Shipping Weight: 96 lbs

Mantis Green

Shipping Weight: 97 lbs

Photon Blue

Shipping Weight: 97 lbs

Transparent Black

Shipping Weight: 96 lbs

Magna Red, with Drum Pack

Shipping Weight: 159 lbs

Mantis Green, with Drum Pack

Shipping Weight: 159 lbs

Photon Blue, with KickPort Pack

Shipping Weight: 158 lbs

Transparent Black, with Drum Pack

Shipping Weight: 159 lbs