Same Day Music is an
authorized Maxon dealer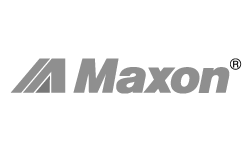 Sometimes greatness gets overlooked. One example of this is the OD820 Overdrive Pro from Maxon's Vintage Series. In the mid 90's Maxon released the OD820 in response to the deluge of boutique overdrives being offered by DIY builders around the world. Since most of these "corksniffer" pedals were simply variations on the company's legendary 808 overdrive circuit to begin with, Maxon felt compelled to "one-up" the one-uppers with the OD820.
A combination clean booster and overdrive in one, the OD820 uses a dual pot to blend clean and saturated signals for a more transparent, less compressed tone. More importantly, the OD820's entire circuit runs at 18 volts using an ingenious voltage-doubling circuit that offers more accurate, full-frequency note reproduction and improved dynamic response. The result: An overdrive that is dangerous in the hands of a gifted guitarist.
Unfortunately, most of these attributes were overlooked by the masses and the music press alike, who erroneously labeled the OD820 as a larger, pricier 808 and basically ignored it.
Sometimes greatness has to be thrust upon you. With this in mind, Maxon has decided to reintroduce the OD820 to the world in the form of the VOP-9 Vintage Overdrive Pro.
The VOP-9 takes the same basic circuit as the OD820 and offers it up in Maxon's indestructible, industry-standard 9-Series chassis. It uses the same JRC NJM4558D op-amp for low-noise operation, and features the same negative feedback loop clipping diode as the OD820 and OD-9. Like the '820, the VOP-9 also features mechanical true bypass switching for uncolored sound in bypass and the ability to blend clean and overdriven tones together.
In addition, the VOP-9's operating voltage is switchable between 9 and 18 volts via an internal DIP switch accessible through the unit's battery compartment. Running at 18 volts eliminates unintentional distortion from the use of high-output pickups and electronics, even when the guitar is played at full volume and the VOP-9's Drive control is set to full. This feature basically makes the VOP-9 a "4 in 1" pedal, offering clean boost or overdrive functions at 9 or 18 volt operation, allowing the user to find the setting that works best for their particular setup and playing style.
When you're ready for greatness, the new Maxon Vintage Overdrive Pro is ready for you!
Same Day Music is an authorized dealer of
Maxon
products.
Specifications
Input Impedance: 500k ohms
Output Impedance: 10k ohms or less
Maximum Gain: 46dB 1.5kHz
Equivalent Input Noise: 112dB or less (IHF-A)
Control: DRIVE, TONE, LEVEL; 18V (+-9V) /9V (+-4.5V) switch
Operating Voltage: 18V (+-9V)/ 9V (+-4.5V)
Power Consumption: 30mA/9V, 28mA/10V at operating voltage 18V (+-9V)
-23mA/9V, 24mA/10V at operating voltage 9V (+-4.5V) Dimensions 74 (W) x 124 (D) x 54 (H) mm
Weight: 580g (including battery)
Battery: 9V battery (6LR61 or 6F22) x 1 or Maxon AC adaptor
Battery life:
-Manganese dry battery +-9V 3.5 hours 25deg C / 77deg F (Panasonic 6F22NB)
-Manganese dry battery +-4.5V 8 hours 25deg C / 77deg F (Panasonic 6F22NB)
-Alkaline dry battery +-9V 10 hours 25deg C / 77deg F (Panasonic 6LR61G)
-Alkaline dry battery +-4.5V 20 hours 25deg C / 77deg F (Panasonic 6LR61G)
Option Maxon AC adaptor (AC210N for North America)
* Specifications are subject to change without notice
Same Day Music is an authorized dealer of
Maxon
products.
Shipping Weights and Dimensions

Shipping Weight: 2 lbs
Shipping Dimensions: 6 x 4 x 3 in