Same Day Music is an
authorized MakeMusic dealer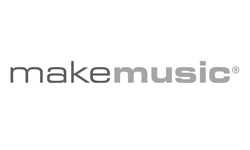 From inspiration to applause, music comes alive with Finale. Easily compose, arrange, notate, and print publisher-quality sheet music that plays back with world-class sounds. Whether you're creating orchestral film scores or .MP3 files for your iPod, Finale offers you the flexibility and freedom to create any music you can imagine.
ScoreManager (New for Finale 2012!)
Focus on your art. Leave the rest to your manager. Finale's ScoreManager takes care of the details - controlling how your staves look and sound - so you don't have to.
Easily change a flute staff to a clarinet staff. Switch between flute and clarinet on the same staff. The ScoreManager knows how a clarinet staff transposes, looks, and sounds, so it makes all the necessary arrangements. The ScoreManager also handles playback and sound setup, so you don't have to navigate to various players or assign correct MIDI channels.
With Finale 2012, you get the highest-quality virtual instruments and improved sound management. Finale's sound libraries are without equal. With Finale 2012, you have access to even more Garritan sounds. Based on your requests, new instrument sounds include:


- Soprano sax


- Celeste


- Mandolin


- Accordion


- Euphonium solo


- Recorder


- Pipe organ - Baroque Plenum Reed stop


- Pipe organ - Pedal stop
Hear your music come alive with Garritan Instruments for Finale. Finale 2012 includes more than 400 world-class instrument sounds from the makers of Garritan Personal Orchestra. Free sounds include orchestral instruments, jazz brass, saxophones, piano, choirs, drum set, guitar, marching percussion, world instruments, church organ, a variety of electric guitars, five octaves of handbells, steel guitar, and a brush drum kit containing 50 additional sounds.
Unicode text support
Easily write and share your music with Finale 2012's Unicode font support. Now you can use all the characters in your fonts. Want to correctly type Dvorak's name? Are you translating a hymn to Korean? Need to add a hard-to-find symbol? Today's Finale can display any character you wish.
Create PDF files
Now it's simple to create PDF files within Finale, whether you use a Mac or a PC. Easily combine all your pages into a single document, share a single page, or any excerpt of a page.
Your files always play back
Send a Finale file to someone who doesn't have the same software libraries installed, and all your staves will play back the instruments you intended - even if they're using a PC and you're using a Mac. Finale uses the libraries you've specified whenever possible, and provides the best alternative when they're not. No matter how you share your music, everyone gets the best possible playback - automatically.
Inspire Your Students
There are more tools and resources in Finale 2012. For example, SmartMusic integration - a Finale exclusive! Instantly save your Finale creations as SmartMusic solo or ensemble accompaniments. Assign the piece to your students, assess their performance, and celebrate their success. Don't forget, with Finale's Exercise Wizard, more than 50,000 exercises are at your fingertips, and ready to use in SmartMusic.
What is SmartMusic?
SmartMusic provides the ideal practice environment for students, including access to the world's largest accompaniment library and instant feedback on each performance.
An expanded library of resources
Finale now provides more than 1,000 examples of music education worksheets, repertoire, and more for you to use or to customize for your needs. New to Finale 2012: Renaissance music, early jazz piano repertoire, intermediate piano pieces, holiday titles, manuscript paper templates, chant notation, and Schenkerian analysis.
The Finale Numerics font
The Finale Numerics font makes it easy to type in Roman numeral or harmonic analysis. Simplifying the stacking of numbers, it's also ideal for notating figured bass and can even be used to create Schenker graphs.
Improved Percussion Notation
Whether you're an expert user customizing percussion scores, or not sure where a bass drum goes on the staff, Finale gets your percussion notation to look and sound perfect in no time.
Over 300 Music Educator Worksheets
Finale now includes more than 300 ready-made, customizable, music education worksheets. Designed for K-12 students of general music, theory, band, orchestra, and choir, these educator-approved worksheets help teach basic elements of music.
Broadway Copyist Font
Introducing the Broadway Copyist font - created by Robert P., designer of the esteemed November and Medieval music fonts. Inspired by the golden era of handwritten Broadway scores, the Broadway Copyist font offers a lighter, classic appearance and:


- A "cleaner" look with greater legibility (especially with text)


- Expanded support of upper ASCI characters


- Improved cross-platform capability
Streamlined Notation Interface
Note selection, entry, and placement of expressions is quick and intuitive. Once in your score, they are easily moved. You can instantly change the appearance of, for example, all your dynamics or rehearsal markings. You'll accomplish more - in less time - without sacrificing any of Finale's awesome power and control. It's also easy to move your markings around your score once they're entered.
Tapspace Virtual Drumline Sounds
Finale now includes more than 100 sounds from Tapspace Virtual Drumline, the world's most powerful marching and concert percussion software instrument, featuring the world-champion Santa Clara Vanguard percussion section.
Garritan Aria player
The Garritan Aria Player is included FREE and is fully integrated into Finale 2011. The level of custom integration is unsurpassed and offers superior sound, more control, and a vastly improved user playback experience. Multiple sound libraries work together seamlessly in Finale. Combine all the included sounds, including Tapscape Virtual Drumline Sounds, Finale's Garritan Instruments, Row-Loff Marching Percussion, Jose Cortijo's Latin Percussion, and the SmartMusic SoundFont.
Multiple Page Editing
Added true multi-page viewing and editing which allows users to both see more of their music and edit everything they see. While Finale has always been able to display multiple pages on your computer screen, edits could only be made on one page at a time. Now you can simultaneously view and edit as many pages as you choose to view on your monitor.


- Copy and paste measures from one page to the next


- Drag slurs from the end of one page to the beginning of another, and much more
Choose from multiple viewing options including single pages, facing pages, and tiled pages. Click to the next page, next pair of pages, or choose to scroll continuously - horizontally or vertically. You can even choose to view your entire piece on screen at once with a tiled view. No other music notation software offers this flexibility. Best of all, you can edit any page in any view at any time.
Import and Record Audio
Give arrangements authenticity and life with a real vocal or instrumental track. Record or import a mono or stereo audio file to enhance playback. No other notation software offers this capability.
Finale's audio support opens up a new world of possibilities.


- Record a vocal track to a soprano aria


- Add a trumpet solo to a jazz chart


- Import a stereo mix of a rock band and add a horn arrangement


- Import audio for transcription/take-down


- Create learning files for choir students with accompaniment and sung text


- Import an audio recording of music, use the TempoTap feature to line-up notation barlines and times, then add additional orchestration
Features


- Creative control - With Finale's new ScoreManager, your staves look and sound perfect.


- World-class sounds - The best playback. Even more Garritan sounds.


- Share without boundaries - Write in any language - Unicode support. Share files that always play back.


- Inspire your students - More tools and resources to help your students excel.


- Finale 2012 includes multiple years of innovation!
Same Day Music is an authorized dealer of
MakeMusic
products.
Finale 2011 for Windows(R) System Requirements
- XP/Vista/Windows 7 (64-bit compatible).
- DVD-ROM drive.
- 800x600 minimum monitor resolution.
- Minimum 512MB RAM (1GB or more recommended).
- 600MB hard drive space required for software and user manual. An additional 2GB hard drive space is required for all VST/AU sounds included with Finale 2011.
Finale 2011 for Macintosh(R) System Requirements
- G4 or higher recommended. OS 10.5-10.6 (Mac-Intel or Power PC).
- DVD-ROM drive.
- 800x600 minimum monitor resolution.
- Minimum 512MB RAM (1GB or more recommended).
- 750MB hard drive space required for software and user manual. An additional 2GB hard drive space is required for all VST/AU sounds included with Finale 2011.
Optional Accessories
- MIDI interface
- MIDI input and/or playback device
- Printer
- Scanner
- Microphone required for use of MicNotator(R)
- A soundcard (including a DirectSound AS20 recommended driver) is required for playing the Garritan sounds in Windows.
- Better processor and hard drive speed is required for simultaneous use of more VST/AU instruments.
Authorization
Finale requires that you authorize the software within 30 days after installation. You are allowed to install Finale on two operating systems (multiple licenses excluded).
File Compatibility
Finale family software can open files in the same or newer software version, but files created in a newer version cannot be opened in an older version unless converted via MusicXML.
System requirements vary for additional products by Garritan and other manufacturers.
Finale 2012 Specifications


-Finale System Requirements Finale 2012 for Windows:



- XP/Vista/Windows 7 (64-bit compatible).


- DVD-ROM drive.


- 800x600 minimum monitor resolution.


- Minimum 512MB RAM (1GB or more recommended).


- 600MB hard drive space required for software and user manual. An additional 2GB hard drive space is required for all VST/AU sounds included with Finale 2012.




- Finale 2012 for Macintosh:



- G4 or higher recommended. OS X 10.5-10.7 (Mac-Intel or Power PC).


- DVD-ROM drive.


- 800x600 minimum monitor resolution.


- Minimum 512MB RAM (1GB or more recommended).


- 700 MB hard drive space required for software and user manual. An additional 2GB hard drive space is required for all VST/AU sounds included with Finale 2012.




- Optional:



- MIDI interface


- MIDI input and/or playback device


- Printer


- Scanner


- Microphone required for use of MicNotator


- A soundcard (including Standard Direct Sound, MME or ASIO drivers) is required for playing the Garritan and other VST sounds in Windows.


- Better processor and hard drive speed is required for simultaneous use of more VST/AU instruments.



Same Day Music is an authorized dealer of

MakeMusic

products.

Shipping Weights and Dimensions

Shipping Weight: 1 lbs
Shipping Dimensions: 10 x 8 x 2 in