Monster Cable Power Pro 2500 Power Conditioner: The monster of power protection.
Many products claim to protect your equipment from power failure, you probably already have a stash of them laying in a dusty box already. The Monster Cable Power Pro 2500 Power Conditioner succeeds where other failed, they protect your gear before its turned on and after the moment its turned off. Trusted by touring professionals and hit-making studios Monster Cable has turned their eyes towards the part of your environment that gets routinely ignored, your musical and sound equipment. Rather than use stock one-fits-all electronic parts used to provide protection to televisions, computers, or other common gadgets the minds at Monster Cable teamed up with the audio wizards from Mackie to design a power conditioner for musicians by musicians.
Monster Cable Power Pro 2500: Cleaning Your Gear from the Inside
Clean Power a Monster Cable Power Pro 2500 exclusive technology does two things: one is filter out AC noise and the other is deliver instant on-demand high currents to power-hungry gear. The Monster Cable Power Pro 2500 is designed with Clean Power technology in mind because of what Monster and Mackie saw occurring with a lot of musical equipment. A great mic would suddenly lose its warmness or a certain amp would start to sound muddy as heck when connected to different power outlets. The problem inherently isn't with the instruments or equipment itself but with the first chain in cable links, the power connection.
On the Monster Cable Power Pro 2500 you get two easy to access outlets on the front and eight in the back all of those outlets are wired to Clean Power circuitry which has built in noise filters which catch electro-magnetic and radio frequency interference. This "noise" usually is never caught by other "surge protectors or power conditioners" because all they focus on really is stopping power surges. The Monster Cable Power Pro 2500 doesn't believe in cutting corners the Clean Power circuitry stops all this noise, all that noise does is lower your audio's fidelity and kill the dynamics in your line signal. Want the perfect recipe for making your sound turn muddy, remove the Monster Cable Power Pro 2500 from the power outlet and plug in a surge protector.
Monster Cable Power Pro 2500: Apply Clean Power to Your Dirty Currents
"Dirty Power" although it sounds like it would make a cool industrial band name, is really hurtful to your equipment. On traditional power strips all the equipment shares the same current wire, so what power may be flowing nicely to one component might be messing up another. The Monster Cable Power Pro 2500 solves this issue by using PowerCenter technology to reduce any dirty power which might be introduced by isolating the digital filters from the analog filters. Any noise you might have gotten from plugging multiple components to one Monster Cable Power Pro 2500 gets removed, providing for an very low noise level without that annoying hum you would get from regular power strips.
One side effect of using the Monster Cable Power Pro 2500 is that it has technology which is very live sound oriented. The Monster Cable Power Pro 2500 has built-in on-demand power induction which provides controlled power spikes that most high-current gear such as amplifiers need to run efficiently. Rather than trip power strips the the Monster Cable Power Pro 2500 knows from the onset that these high-gain gear needs a rapid power signal and feeds it power accordingly.
Monster Cable Power Pro 2500: Twice the Protection
An unheard of killer lurks in many conventional power strips and protectors instant-on technology. Plug in 5 amps, two mixers, and 3 powered speakers into a regular strip and turn them on at once, ok don't do that because normally all that would happen is a blown fuse or smoke coming out of the room from all that equipment needing power at the same time. The Monster Cable Power Pro 2500 features exclusive Dual Mode Plus circuitry that lets you do the unthinkable. Rather than instantly feed a huge power current to all the gear plugged into the the outlets the Monster Cable Power Pro 2500 uses two quick-stages to turn on your equipment. Blowouts averted, and power safely rained the Dual Mode Protection does away with old power strips causing people to blow speakers or trip fuses.
The Monster Cable Power Pro 2500 just to round out the complete package features an easy to see LED display which gives you visual access to what's being filtered and what if any power issues are occurring. With an optional XLR lamp you can even see the front panel better on a darkly lit stage.
Same Day Music is an authorized dealer of
Monster Cable
products.
Same Day Music is an
authorized Monster Cable dealer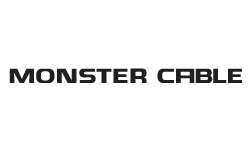 The Monster Pro 2500 provides 10 outlets, Clean Power Stage 2 filtering, 2-stage sequenced AC power on/off, 8 switched outlets/2 unswitched (front panel), 2775 joule rating.
Today's sophisticated musical gear and studios require protection from surges and voltage spikes. Monster, the industry leader, now offers the safest and best way to protect your entire system. All models feature Clean Power filtering, color-coded outlets, audible and visual indicators for ground and protection status monitoring, extra-long high current Monster PowerLine cords for optimum power delivery, 24k gold plated contacts on grounded plug for maximum conductivity, and more.
Features:
Monster Clean Power - Stage 2 v2.0 filtering for high quality sound
Dual-Mode Plus protection provides audible and visual alarm for maximum protection and performance
Two-stage sequenced AC power turn-on and turn-off for equipment and overload protection
8 switched outlets for power hungry equipment are color-coded for error free connections
2 unswitched front panel outlets for convenient access
2775 joule rating provides high level of surge protection
Heavy-duty, extra long high current 8 ft. Monster PowerLine 200 cable for maximum power transfer
Monster's Performance-Enhancing Solution for Music Professionals
Since 1979, Monster has provided high performance instrument and speaker cables to performing musicians and recording professionals around the world. In 1998, we introduced Monster Power, a complete line of affordable, audiophile-grade PowerCenters that provided better sound, and complete protection against electrical surges and spikes. Robert Harley and The Absolute Sound magazine said it best: "In my ten years as a reviewer, I've never heard as dramatic an improvement in sound quality for so little money as that rendered by Monster Power's Home Theatre PowerCenter HTS 2000." Now, Monster has created a new line of Professional Power Centers for the musician, studio owner, installer, and backline tech. The PowerCenter PRO 2500 reflects Monster's commitment to creating performance-enhancing solutions for music professionals.
More Than a Surge Protector
Ordinary AC power accessories don't increase the performance of the equipment they power. The PowerCenter's advanced technology and innovative design offers several patented convenience and performance features.
While the new PowerCenter also does an excellent job of protecting equipment from harmful power surges, its main performance benefit is much more than just surge protection. Our patented Clean Power filter circuitry (U.S. Pat. No. 6,473,510 B1) virtually stops noise that goes right through ordinary surge protectors.
Revolutionary Separate Noise Isolation Filtered Outlets
And since there is more than one type of noise that can degrade connected equipment, the PowerCenter features revolutionary separate noise isolation between digital and analog filtered outlets. If any noise from components sharing the power line gets through one Clean Power filter, it will have to go through another filter to get to an adjacent set of outlets. The result is an extremely low noise floor without hum or buzz that allows all of the rich harmonics and tone to come through your performance.
As fellow musicians and audiophiles, Monster has designed the PowerCenter to help achieve the best possible sound.
Same Day Music is an authorized dealer of
Monster Cable
products.