Same Day Music is an
authorized Martin dealer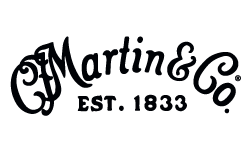 The Martin D28 Authentic 1941 Acoustic Guitar is an authentic remake of the original D-28 1941 Dreadnought. World war II caused there to be restrictions of certain metals, trims and materials by 1941. Martin was affected just like all other American companies. The D-28, however, still retained some resticted materials like a metal T-bar truss road, bone or ivory saddle, fine German herringbone wood inlay, diamond and square fingerboard inlays, Adirondack spruce top, and Brazilian rosewood back and sides. An evolution in guitars and materials have changed the materials and builds of guitars, including a shift away from scalloped bracing because of the use of heavier steel strings, and some would disappear altogether or return only years later. Among collectors and players alike, the 1941 D-28 is highly prized as the penultimate Martin Dreadnought for its exceptionally consistent, powerful, balanced, and open tonality - the best of the big, long scale, steel string acoustic guitars.
Due to scarcity and regulation, the genuine rosewood of the Brazilian variety used on all pre-1964 rosewood Martin guitars can no longer be used on Martin guitars. The back and sides of this stunning guitar are offered in solid Madagascar rosewood, a very close cousin of the Brazilian Rosewod, in place of the Brazilian. In all other respects, the D-28 Authentic 1941 mirrors the original in appointments, features, tone, construction methods, and materials, including a genuine mahogany 14-fret neck, solid Adirondack spruce top and scalloped Adirondack spruce braces, ebony bridge and fingerboard, diamond and square position inlays, grained ivoroid bindings, period Waverly tuners, hide glue construction, and more.
Same Day Music is an authorized dealer of
Martin
products.