Same Day Music is an
authorized Marshall dealer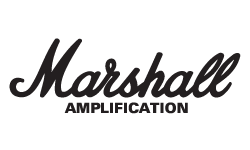 The Biggest and the Baddest! Pairing the Marshall DSL100 with a Full Stack of an MX412A Angled and MX412B Straight Cab provides a hardcore performing amplifier for players who want to sound huge. The hard rockin' all-tube Marshall DSL100H Dual Super Lead Guitar Amplifier is designed for players who want their guitar to be loud and agressive in any venue. The DSL100H offers 100 watts, 2-channels and a feature set that replicates the DSL100 plus upgraded resonance control, studio-quality, digital Reverb and a rear-panel Pentode/Triode switch to drop the amp's output power to 50 watts.
The DSL100's footswitchable Classic Gain and Ultra Channels each boast two modes - Clean/Crunch and Lead 1/Lead 2 respectively. These will take you from Plexi-style, pristine clean to Marshall JCM800 snarl, hot-rodded 2203, high gain lead and all points in-between. The flexibility of the shared 5-way EQ (Treble, Middle, Bass, Resonance and Presence) section is increased further by a Mid-Shift button - perfect for modern metal brutality.
A Series FX loop on the rear panel (bypassable via an on/off switch) adds to the Marshall DSL100H head's professional flexibility, as does the Pentode (Full Power)/Triode (Half Power) switch which drops the power-amp's output to 50-Watts. It also changes the amp's tonal character as Triode mode produces a smoother, less aggressive sound.
Marshall MX412 Speaker Cab Features:
- Four Celestion G12E-60 12 inch Speakers
- Black Covering and White Piping
- Marshall Logo
- MDF Construction
Marshall DSL100H Head Features
- 100 Watt Head with 2 Channels (Classic Gain, Ultra Gain)
- Independent Volume and Gain Controls Per Channel
- Lead1/Lead2 Modes for Ultra Gain Channel
- EL34 Valve Power Stage
- Bass, Middle, Treble and Presence Controls
- Tone Shift Button
- Variable Resonance Control
- Pentode/Triode Switch
- 2 Custom Voiced Digital Reverb Controls (one for each channel)
- Footswitch Included (for channel change and reverb on/off)
- Speaker Outputs For 4/8/16 Ohm Speaker Cabinets
Same Day Music is an authorized dealer of
Marshall
products.