Same Day Music is an
authorized Nady dealer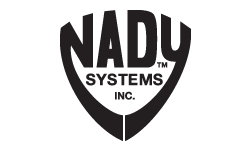 If you need multiple wireless handheld mics with great reliability and sound for a great price, look no further. The Nady 401X QUAD handheld wireless mic system provides features found on systems costing much more and are the ideal choice for houses of worship, schools, music venues, karaoke and much more.
Features:
Nady 4 Channel VHF Handheld Mic System on Channels ABDN:
- Four independent VHF receivers in one convenient, rugged, all-metal single-rack space housing
- Front dual antenna jacks for either onboard or remote antennas
- Front panel Power On/Off switch, plus Power On LED, TX On and AF signal level LED displays
- Rear panel individual XLR output jacks; volume and RF mute controls for each of the four channels; 4-channels-mixed AF out 1/4" phone jack
- Noise-free transmitter On/Off operation
- High performance--unmatched transparent audio with 120 dB dynamic range and up to 250+ ft. optimum line-of-sight operation
WHT Handheld Microphone Transmitter:
- Operates on a separate single frequency in the VHF 170-216MHz band
- Features the Nady DM-10D unidirectional neodymium dynamic cartridge for optimum true sound, maximum feedback rejection and minimal handling noise
- Off/Standby/On switch allows convenient audio muting with transmitter on
- Low-battery LED indicator flashes once for Unit On; lights steady for low-battery alert
- Uses one 9V alkaline battery for 15+ hours operation
Same Day Music is an authorized dealer of
Nady
products.
- Channels: A / B / D / N (171.905 MHz / 185.150 MHz /209.150 MHz / 197.150 MHz)
- Frequency Response: 30-18KHz (-3dB)
- Dynamic Range: 120dB (20-20KHz)
- Total Harmonic Distortion: <0.5% (typical)
- RF Carrier Frequency Range: 170-230MHz (Factory installed Channels)
- Frequency Stability: +/- 0.005%, crystal controlled
- Modulation: FM (F3E), +/-15KHz nor,+/-30KHz max
- Operating Range: 250 feet typical -- up to 500+ feet optimum line-of-sight
TRANSMITTERS:
Nady DM-10D neodymium dynamic cartridge
- Controls: OFF/STANDBY/ON switch
- LED Indicator: Unit "ON" (single flash), Low Battery Alert (steady)
- RF Power Out: 50mW (Max. allowed by FCC)
- Harmonic & Spurious Emissions: <-40dB
- Battery: 9V Alkaline
- Battery Life: Up to 20 hours
- Transmitter Dimensions: 9.5" X 1.4" diameter. (24.1 X 3.5 cm)
- Weight (w/o battery): 6.9 oz (193 g)
RECEIVER
- Controls: Power ON/OFF, volume control, mute control
- Connectors:
- 1 unbalanced adjustable mixed (all four channel)
- 1/4" T-S audio output jack. Line level, 600 ohms
- 4 balanced fixed level XLR. #1=GND, #2-3=signals
- Line/Mic level, 11k/600 ohms
- Receiver: 2.1 mm barrel-type DC input jack (tip=positive)
- LED Indicators: 1 Power ON LED, 4 AF LED, 4 TX ON LED
- Receiver Dimensions: 1.75" x 7.5" x 16.5" (4.4 x 19 x 42 cm)
- Weight: 4.5 lbs (2 Kg)
- Power Requirements: 16V @ 800mA, nominal, AC/DC adapter supplied
- Antenna Connectors: Dual female BNC connectors
Same Day Music is an authorized dealer of
Nady
products.
Shipping Weights and Dimensions

Base Item

Shipping Weight: 9 lbs
Shipping Dimensions: 21 x 12 x 5 in