Same Day Music is an
authorized Peavey dealer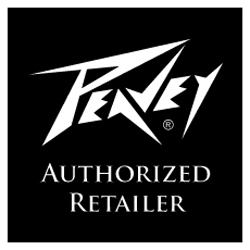 After forging the sound of aggression for more than 15 years, Peavey is making its highly respected, high-gain 6505 Series amplifier available for the first time in a 1x12 combo-amp configuration. The 6505 Plus 112 combo harnesses the full gain and legendary tone of the Peavey 6505 Series, which since 1991 has defined the sounds of extreme rock guitar, into a format that is equally suited to clubs, rehearsal rooms and studios.
Five select 12AX7 preamp tubes and a pair of 6L6GC power-amp tubes provide the tonal foundation for the 6505 Plus 112 combo, while patented circuitry such as Peavey's Resonance control tweak its legendary tone. Both the Lead and Rhythm channels feature independent three-band EQ, pre/post gain controls and Presence and Resonance adjustment. The Rhythm channel also includes a footswitchable Crunch boost.
Features
- 60 watts RMS
- 16, 8 or 4 ohms
- Five 12AX7 preamp tubes and two 6L6GC power-amp tubes
- Effects loop
- Separate three-band EQ on each channel
- Separate Resonance and Presence controls on each channel
- Separate pre/post gain on each channel
- Footswitchable Crunch boost on Rhythm channel
- Three-spring reverb
- MSDI(tm) microphone-simulated XLR direct output
- 12-inch Sheffield(r) loudspeaker
- External speaker outputs
- Lighted Peavey logo with dimmer control
The 6505 Plus 112 combo also features the Peavey MSDI microphone-simulated direct interface, which eliminates the need for miking by allowing users to route the amp's signal directly to a recording device or mixing console. Additional features include three- spring reverb, effects loop and external speaker outputs, plus a 12-inch Sheffield loudspeaker in a sealed-back cabinet that offers maximum resonance and sound projection.
Same Day Music is an authorized dealer of
Peavey
products.
Rated Power & Load: 60 W(rms) into 4, 8, or 16 Ohm
Tube Complement: 2 x 6L6GC, 5 x 12AX7/ECC83 (selectable)
Dimensions (H x W x D): 22.3 in. (567mm) x 25.5 in. (648mm) x 11.2 in. (285mm)
Power Consumption: 150 W, 60 Hz, 120 VAC (Domestic) 150 W, 50/60 Hz, 220-240 VAC (Export)
Weight: 64.2 lbs. (29.1 kg)
Preamp Input: (MSDI(TM)) Microphone Simulated Direct Interface
Impedance: 1 ohms
Load Impedance: 6k ohms or greater
Nominal Sensitivity (Rhythm): -32.8dBV, 23.0m (rMS)
Nominal Output Level: -29.1dBV, 35.0V (rms)
Nominal Sensitivity (Lead): -63.5dBV, 667uV (rms)
Remote Footswitch: (optional)
Crunch Boost (Clean channel only): Special two-button unit with LED indicators (not included,
Increased gain and altered reponse for very brown voicing.
Peavey #00592720) for channel selection (Channel) and remote activation of the Crunch boost (BOOST).
Equalization (both channels): Custom Low, Mid & High EQ.
Effects Return:
Load Impedance: 22k ohms or greater
Nominal Output Level: -3.0dBV, 0.7V (rms)
Same Day Music is an authorized dealer of
Peavey
products.
Shipping Weights and Dimensions

Base Item

Shipping Weight: 68 lbs
Shipping Dimensions: 30 x 27 x 16 in