Same Day Music is an
authorized Pioneer dealer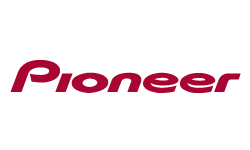 Pioneer HDJ-1000 professional headphones feature a futuristic look, lightweight design and exceptional sound quality. The HDJ-1000 headphones offer 3,500 mW of maximum input making distortion practically non-existent. The 50-millimeter dome fully encompasses your ear, giving you the best possible clarity. The HDJ-1000 weigh in at less than one pound, which combined with plush padding, makes it possible for music professionals to wear the headphones for hours of listening pleasure. With the HDJ-1000, Pioneer introduces a product that both looks and sounds great, with more comfort and features than ever before.
Large Diameter Speaker Unit
High power input (3,000mW) for monitoring a high level of sound, and a hermetically sealed body with high sound-insulating ability.
Folding Housing With Universal Joints
Joints allow you to fold the headphones for space-saving and to turn them in each direction for free-style single ear sound monitoring.
Soft Touch Housing
Designed with DJs in mind, the housing can rest against the shoulders for stability and comfort.
Stereo/Mono Selector
The selector allows you to mix right and left channel signals for single ear sound monitoring.
Cord Assembly
Available from Pioneer as service part.
Same Day Music is an authorized dealer of
Pioneer
products.
Type: Tightly closed dynamic headphones
Frequency: Range 5 to 30,000 Hz
Impedance: 40 Ohm
Maximum Input: 3,500 mW
Output Sound: Level 107 dB/mW
Unit Type: 50 mm dome
Plug: 3.5 mm 3P mini plug (gold-plated)
Weight: 9.5oz (excluding cord)
Accessories: 06.3 mm 3P plug adapter with screw & carrying bag
Connection cord: 3.94 ft long single coiled cable (approx. 9.84 ft when straight)
Same Day Music is an authorized dealer of
Pioneer
products.
Shipping Weights and Dimensions

Black, Limited Edition

Shipping Weight: 1 lbs
Shipping Dimensions: 10 x 9 x 5 in

Gold, Limited Edition

Shipping Weight: 2 lbs
Shipping Dimensions: 10 x 9 x 5 in