Same Day Music is an
authorized Radial dealer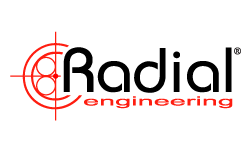 The Radial BigShot EFX is a true-bypass effects loop switcher that lets you set up two separate effects loops and insert them into your pedal chain at will. This means that noisy pedals or tone robbing non true-bypass pedals that you 'love to hate' can now be used and completely taken out of the signal path when they are not needed.
Features
- Instant access to two effects loops
- Take noisy pedals out of the signal chain
- Create true-bypass signal path with all pedals
- Compact and rugged for pro pedalboards
- Easy to use and set up BigShot EFX Development
Today, more and more players are turning their attention to ultra-clean tube amps and using effects at the pedalboard to create tonal variations. In theory this works great but as the purest expands his quest for tonal flexibility, he is often caught having to use non-true-bypass pedals that quickly devour the very tone he has worked so hard to achieve.
This leaves the tone-hungry purist with a choice: make do with less pedals and the clunk and clicks of so many less than perfect true-bypass pedals or introduce a solution. The BigShot EFX is in fact the little brother to the Tonebone Loopbone, an active loop selector that is fully equipped with the finest Class-A buffer and photocell switching for ultra-quiet performance. But for many, the added features and higher cost is tough to justify. This makes the BigShot EFX a wonderful cost-effective option.
Another consideration is size and practicality in actual use on a pedalboard. The EFX is designed to be as small as possible and with the connectors and cables located at the front of the unit, where they will have the least impact on valuable stage space used up.
Two loops, compact and true bypass 'straight wire' switching finally makes it possible to introduce pedals as needed and take them out for a pure guitar-to-amp connection.
Using the BigShot EFX
In use, the EFX is extremely functional and intuitive. One loop could be used for overdrive and distortion while the other could be used for signal boosting and effects such as chorus or flanging. This way, exciting combinations can be formulated to create tones.
Best of all, noisy or non true-bypass pedals can be used and completely taken out of the signal path when not in use, thus allowing you to regain the primary guitar to amp connection when needed.
Same Day Music is an authorized dealer of
Radial
products.
Circuit type: Passive true-bypass
Ch-A/B Isolation: Yes -- ISO switch on Output-B
Ground lift: Yes -- LIFT switch on RETURN of both LOOP-1 and LOOP-2
Mute: Yes -- mute switch mutes loop-2
Footswitches:
Heavy-duty high-cycle :
1 - switches in/out FX loop-1
2 - switches in/out FX loop-2
Construction: 14 gauge steel, baked enamel finish
Size: 3.6 in. w x 3.9 in. d x 2 in. h (92 x 99 x 51mm)
Weight: 1.25 lbs. (0.56 kg)
Warranty: Radial 3-year limited warranty
Same Day Music is an authorized dealer of
Radial
products.
Shipping Weights and Dimensions

Shipping Weight: 2 lbs
Shipping Dimensions: 7 x 4 x 3 in