Same Day Music is an
authorized Remo dealer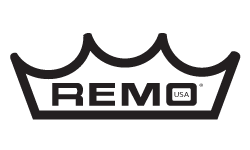 The key-tuned Djembes are the most popular of Remo's World Percussion instruments. They're as widely used by touring professionals as they are in drum circles. The high slap tones and deep bass response from all Remo Djembes are from the Type 2 FiberSkyn 3 drumhead and Acousticon shell. There are 4 lugs on the 10 in. model, 6 lugs on the 12 in. and 8 lugs are used on the 14 in. + models, all in a Earth-pattern FabriFinish covering.
New Finishes
Metalized Nickel Silver -- The Metalized Nickel Silver finish bridges the gap between wood and metal shells and provides a unique look featuring the SkynDeep Black FiberSkyn Mondo head. The SkynDeep Black FiberSkyn Mondo head supplies the sound and durability players are used to but ads an aesthetic quality previously unavailable. Available only in the 14 in. x 25 in. size.
Djembe
Remo djembes are based upon the traditional drums of the West African Mandingo people, originating from the great Mali Empire of the 13th and 14th century.
Developed with the assistance of world-renowned Djembe players, Remo's key, rope, and cable-tuned Djembes feature superb sound quality, lightweight design, are easily tuned in any kind of weather, and always easy to play.
These versatile instruments are then combined with Remo's modern advances including a Type 2 FiberSkyn 3 head on this drum key-tuned model.
Same Day Music is an authorized dealer of
Remo
products.
Superb sound quality and lightweight design@Easily tuned with a standard drum key@FiberSkyn 3 drum head
Same Day Music is an authorized dealer of
Remo
products.