Same Day Music is an
authorized Rhythm Tech dealer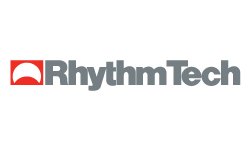 The Rhythm Tech Pro Tambourine
Rhythm Tech is proud to announce the introduction of the Rhythm Tech Pro tambourine. The Pro represents a major advancement in the art and science of percussion, and is destined to become the new professional standard for sound, feel and performance.
Features:
New handle and jingle layout
Available in stainless steel or brass Jingles
New stainless steel jingles are even brighter and louder/brass jingles are lower pitched and darker sounding
Comes in its own molded gig case (no disposable packaging)
Change is Good
This new model features advanced synthetic materials and computer assisted design and manufacturing methods to create a completely redesigned more ergonomic handle, more efficient jingle placement, improved balance, as well as a resilient over-molded GLS playing edge that feels incredible.
Shake Things Up
In high volume situations, Rhythm Tech's new stainless steel jingles are a quantum leap forward that will take you to a whole new level. The Pro is also available with brass jingles that create a warm, funky, "chunkier" sound.
The Evolution Continues
Overall, the new instrument has a lighter, more responsive and comfortable feel with a sound that can only be described as "turbo-charged."
The Pro is available in a choice of colors with either stainless steel or brass jingles, and comes in its own protective molded gig case.
Meet the new Rhythm Tech Pro
Rhythm Tech designed and patented the original Rhythm Tech tambourine back in 1980. A universally acclaimed revolution that permanently changed the way the instrument would look and feel, it has remained the standard for both professional percussionists and musicians of every level for over 25 years.
As good as it is, they always thought it could feel and sound even better. The only obstacle was the available technology of the times. Now after 25 years the technical possibilities have caught up with their vision.
Rhythm Tech redesigned the handle, changed the jingle layout and the balance point. They gave it a unique cushioned over-molded GLS playing edge, and added more than 15 other design innovations to create the new Rhythm Tech "Pro" tambourine. The Pro has a lighter, more responsive and comfortable feel with a sound that can only be described as "turbo-charged."
Same Day Music is an authorized dealer of
Rhythm Tech
products.