Same Day Music is an
authorized Rane dealer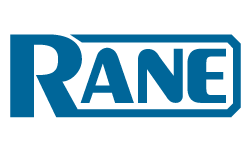 The Rane SL 2 for Scratch Live gives you the freedom to take your entire digital music collection on the road with advanced features that add extra creativity to your DJing. This intuitive system replicates the traditional DJing experience for "real feel" usability. Low latency means the response time from touching the decks to hearing an audio signal is extremely fast. Serato engineers developed system level audio drivers that allow accurate and reliable operation at faster speeds than any other similar package.
The Rane SL 2 USB interface connects one or two standard vinyl or CD turntables to your computer using a single USB cable and audio connections to line inputs on your DJ mixer.
Features:
- DJ with music files on your computer using Control Vinyl, Control CD or MIDI
- Connect two turntables or two CD decks selected via the rear panel switch
- High-quality 24-bit audio with software-selectable 44.1 or 48 kHz sample rate
- Galvanic isolation guarantees audio is actively isolated from USB and power
- Creative DJing features: cueing, looping, keylock, sample player and DJ-FX
- Intuitive file management with crates. Easy file and iTunes playback migration
- Multiple modes for waveform display and library browsing
- Built-in recording interface for archiving vinylThe Rane SL series of interfaces with Serato Scratch Live set the standard for vinyl emulation.
The SL 2 advances the technology found in the original SL 1, with these improvements:
- CD / Phono input switch on the SL 2 box
- Superior sounding 24-bit converters
- Hotter 3 Vrms input and output
- 44.1 or 48 kHz sample rate selected in software
- ASIO / Core Audio drivers for 3rd-party support
- Smaller and more compact die-cast design
Same Day Music is an authorized dealer of
Rane
products.
- CODEC:
24-bit PCM
- 44.1 kHz Sample Rate Frequency Response:
-0.5 dB @ 20 Hz, -1.22 dB @ 20 kHz
- 48 kHz Sample Rate Frequency Response:
-0.5 dB @ 20 Hz, -0.40 dB @ 20 kHz
- Sample Rate Selection:
44.1 / 48 kHz selected in software control panel
- Deck Inputs:
Unbalanced RCA with CD / Phono switch
- Phono Maximum Input:
70 mV rms @ 1 kHz
- Phono Gain:
33 dB at 1.0 kHz
- Line Level (CD) Maximum Input:
3 Vrms
- Line Outputs:
Unbalanced RCA
- THD+N:
0.007% @ 1 kHz
- Maximum Output:
3 Vrms
- Dynamic Range:
101 dB A-weighted analog in to analog out
- Dynamic Range:
DAC 104.5 dB A-weighted
- Device Latency:
1.4 ms @ 44.1 kHz and 1.3 ms @ 48 kHz
- USB 2.0 High Speed Port Required:
3-unit load (300 mA max)
- Blue Indicator:
- Flashing while device is booting- Lit when USB 2.0 connection is detected
- Yellow Indicator:
Lit when the analog section is powered on
- Optional RS5 External Universal Power Pack:
7.5 Volts DC, P6 barrel plug
- Power: Turn On/Off Muting:
Yes
- Galvanic Isolation:
- Audio I/O is actively isolated from USB port and external power- Auto-selects USB or external power without interruption
- SL 2 Unit:
Size 5.5 in. x 5 in. x 1.3 in. (14.1 x 12.5 x 3.3 cm)
- Shipping:
Size 14 in. x 14 in. x 4 in. (36 x 36 x 10 cm)
- Weight:
5 pounds (2 kg)
System Requirements:
- PC (Windows XP, Windows Vista, Windows 7) or Mac (OS X 10.6, 10.7, or 10.8)
- Intel 2.0 GHz Core Duo (only 1.8 GHz for Mac)
- 2 GB RAM (4 GB recommended)
- Available USB 2.0 port
- Screen resolution 1280 x 768 or greater
Rane recommends Intel Processors
Same Day Music is an authorized dealer of
Rane
products.
Shipping Weights and Dimensions

Black

Shipping Weight: 5 lbs
Shipping Dimensions: 14 x 14 x 4 in

Blue

Shipping Weight: 6 lbs
Shipping Dimensions: 14 x 14 x 3 in