Same Day Music is an
authorized Rane dealer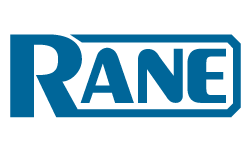 The Rane Serato Scratch Live SL 4 connects four vinyl turntables or CD players to your computer and the mixer of your choice. Using special control vinyl, CDs or MIDI controllers, you can scratch and mix files from your Mac or Windows computer's CD or hard drive. This intuitive system replicates the traditional DJing experience for "real feel" usability. With unparalleled performance, stability and audio quality, you'll know why thousands of DJs worldwide choose Rane with Serato Scratch Live.
The Rane Serato SL 4 is the first standalone DJ interface with two USB ports for seamless DJ changeover and back-to-back performances. Superior sound is delivered with high quality 96 kHz, 24-bit audio. Built-in galvanic isolation between USB and audio, with turn on/off muting, ensures that only the purest interference-free audio signal is heard. Low-latency ASIO and Core Audio drivers allow you to use the SL 4 as a studio production tool with multiple third-party software applications. The SL 4 is masterfully crafted by Rane for the discerning DJ.
Features:
- Inputs for four turntables or CD decks switchable in any combination.
- Two high-speed USB 2.0 ports for seamless DJ changeover and back-to-back performance.
- Aux Input for session recording or LiveFeed.
- Aux Output assignable to the SP-6 Sample Player and The Bridge.
- 48 kHz and 96 kHz sample rate switch on the SL 4 rear.
- 10-in 10-out USB sound card with any software supporting ASIO or Core Audio.
- Built in galvanic isolation for the purest audio signal.
- Four software-switchable analog Thru connections for regular vinyl or CD.
- Bus power from either USB port or the included external power supply.
In the Box
The Rane SL 4 is only sold as part of a complete package. The display box includes:
- 1 SL 4 interface
- 1 soft carry case
- 1 Serato Scratch Live Software install disc.
- 1 external power supply with country adaptors.
- 2 USB cables
- 6 stereo RCA cables
- 4 Control CDs
- 4 Control Vinyl Records
- 4 rubber feet for the SL 4
- 1 quick start guide
- 1 operators manual
- 1 warranty card
- Replacement vinyl, CDs and the power supply are available to USA customers at the Rane store. International customers should contact their distributor.
Control Vinyl Spares
Continuous control signal on vinyl allows smooth accurate scratching. Scratch Live has the lowest latency vinyl emulation system on the market. It has advanced vinyl groove and stylus modeling algorithm for a sound indistinguishable from the real thing.
Innovative positioning system allows fast and accurate needle dropping. The record has thin marks every minute, and a thicker mark every 5 minutes (played at 33 RPM). These marks assist you when using needle dropping to move through the track.
The Vinyl Scroll track allows you use your turntable or CD to scroll through your crate and pick the next song without touching your laptop.
Four copies of black vinyl are included with the SL 4. Side A: 10 minutes plus Vinyl Scroll track. Side B: 15 minutes.
Control CD Download
Four 15-minute control CDs are included with the SL 4.
You can burn your own control CD if you have a burner and the right software after downloading the big control file (132MB). Scratchlivecontrol.zip requires an unzip utility to open, and includes two files. Scratchlivecontrol.wav is a stereo 44.1 file that you can drop into any burner application -- however, the track select portion at the end of the audio file reqires a special start time on a second track to function correctly. If you have Sony CD Architect(TM), you can load the scratchlivecontrol.cdp file and it will incorporate the correct second track timing. When using any other application, do not adjust the levels, make sure no auto-levelling is turned on, don't downsample or try another format, or the control signal won't function.
Rane Serato Scratch Live
Scratch Live supports all these file formats: Fixed and Variable Bit Rate MP3, AIFF, AAC, ALAC, WAV, OGG Vorbis, CD Audio and direct from the mixer. Record from your mixer's Aux output and immediately scratch as if it was on vinyl. Record direct from vinyl or CD and save as a 24-bit 48 kHz or 96 kHz stereo file.
Easily import your playlists and iTunes library. You can drag from Explorer (Windows) or the Finder (Mac) into the Scratch Live library. The crate and subcrate system helps organize your library and sets. Hot-swap external drives with fast automatic library merging and retention of crates. Browse your music collection by album, artist, BPM, or genre, with optional album art display. Intuitive search function can be applied to any field to find things quickly. Edit ID3 tags with full Unicode support.
Preprocessing of MP3 files is not required except to detect corrupt files or use the auto-BPM and auto-gain functions. Auto-BPM detects tempo information for tracks without it, saving it with each file. A tap tempo button allows you to enter your own. Auto-gain lets you set a target gain on any or all songs in your library. You can also manually adjust individual gain, remembered in each song file.
The Virtual Deck shows everything about the speed and position of a track. As the vinyl rotates, so does the line on the label. The circular progress bar around the edge is a visual representation of the position within the song. The time and remaining time are displayed in minutes and seconds. The turntable speed as a percentage of pitch shift is on the left, and the pitched BPM is on the right.
Different operating modes can be assigned to each Virtual Deck:
- Absolute Mode -- exact reproduction of record movement, needle drop through tracks - just like normal vinyl. The beginning of the track is mapped to the start of the record.
- Relative Mode -- skip-free scratching, jump to cue points, and pitch bend buttons combined with turntable control. This mode observes the relative forward and backward movement of the record, but does not regard the position within the record.
- Internal Mode -- mix with just your laptop using features modeled on DJ CD players. Rewind, Bend down, Play / pause reverse, Play / pause forward, Bend up, Fast forward.
- Auto mode -- play a sequence of tracks automatically.
With Key Lock on, the key or pitch of the song stays locked at what it would be if the track was playing at normal speed, regardless of the platter speed of the turntable or CD player. Key Lock has scratch detection, so it automatically turns off when scratching for a natural scratching sound.
Variable zoom waveforms centered around current position display horizontally or vertically.
Waveforms are colored by frequency so you can distinguish instruments visually. Full track overview lets you quickly find where the beat drops, find breakdowns and choruses, and jump to any part of the song. The tempo display assists with rapid tempo matching of tracks. When the two tracks are matched to the same tempo, the peaks will line up. Beat display emphasizes the transients in tracks -- these are matched up when the two tracks are beat matched. Visual markers can be set for up to 5 cue points per song and triggered from the keyboard. Save up to 9 loops per track -- these loops are saved in the file, and will be present when you reload. Censor expletives on the fly with an instant quick-reverse and catch-up with no loss of timing or pitch.
MIDI control can interface USB controllers with Scratch Live. DJ controller support will vary. Check the current notes at serato.com for supported controllers.
Built-in help and tips in multiple languages are accessible anytime. There is even a low power warning when running off a laptop battery.
Same Day Music is an authorized dealer of
Rane
products.
Computer interface:
USB 2.0 High Speed
USB Power Requirement:
500 mA, 5.0 Volts
USB Audio Channels:
Ten Record and Ten Playback
External Power Supply:
7.5 Volts (included)
Converters:
24-bit / 48 kHz or 96 kHz sample rate switchable, DAC Dynamic Range: 104.5 dB, A-weighted, ADC Dynamic Range: 103 dB, A-weighted, Dynamic Range: 101 dB A-weighted analog in to analog out
Frequency Response:
-0.6 dB @ 20 Hz, -0.03 dB @ 20 kHz
THD+N:
0.007% at 1 kHz, 20 Hz to 20 kHz BW
Inputs:
Inputs 1-4 individually Phono / Line switchable
Aux Input:
Line-Level only
Gain:
Unity
Maximum Input / Output:
3 Vrms @ 1 kHz
Switched Phono Input Max:
70 mV rms @ 1 kHz
SL 4 Unit Size:
7.25" x 5" x 1.7" (18.4 x 12.6 x 4.3 cm)
Shipping Size:
14" x 14" x 4" (36 x 36 x 10 cm) [tentative]
Weight:
6 pounds (3 kg) [tentative]
PLEASE NOTE:
These are the minimum requirements to run Scratch Live with the SL 4. For best performance and for use in professional situations Rane recommends you buy a higher spec computer. They also recommend Intel processors.
- Available USB 2.0 port
- Hard disk space for music
- 1024 x 768 screen resolution or higher
- 5400RPM Hard Drive. 7200RPM recommended for high resolution audio playback
Mac
- 2GHz Intel Core Duo.
- 2GB RAM.
- OSX 10.5.8 or higher.
Windows
- 2.2GHz Intel Core Duo.
- 2GB RAM.
- Windows XP with Service Pack 3 or
- Windows Vista with Service Pack 2 or
- Windows 7. We recommend Windows 7 over Vista.
* If you have a large library, you will benefit from having more RAM.
Note 1: If you are using Scratch Live's more system intensive features such as DJ-FX or multiple virtual decks and are having issues, you may need a higher spec computer for best results, or make sure you have optimized your system: Windows 7 and Vista / Mac OS X.
Note 2: If you are planning on using HID devices on Mac OSX 10.5 (Leopard), then you must use OSX version 10.5.6 or up. HID devices include Rane mixers such as the Rane Sixty-Eight or TTM 57SL and some 3rd party controllers such as the Pioneer CDJ-400, CDJ-900, or CDJ-2000 CD players.
Same Day Music is an authorized dealer of
Rane
products.
Shipping Weights and Dimensions

Base Item

Shipping Weight: 6 lbs
Shipping Dimensions: 14 x 14 x 4 in