Same Day Music is an
authorized Samson dealer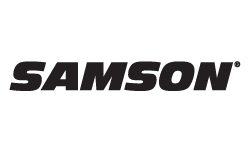 The whole point of wireless microphone and instrument systems is to eliminate cables for complete freedom of movement. AirLine takes this idea to the next level with miniaturized transmitters that eliminate conventional body pack transmitters and connecting cables so vocalists, musicians, fitness trainers, public speakers, on air talent, and more can cut ALL the cables for the first time!
AirLine Guitar System
The revolutionary AirLine "plug-in" guitar transmitters come in 2 versions: the AF1 for Strat(r)-style inputs and the AG1 for traditional Gibson(r)-style end-mount inputs and all others. Less than half the size of conventional body packs, these miniaturized transmitters run on a tiny triple-A battery with 14-hour battery life. Both feature an array of onboard controls: A Power On/Off and Mute switch, red/green LED for Power On/Off, a Peak LED and an Input Level control for different pickups. And UHF (Ultra High Frequency) means clearer frequencies with less interference.
Designed for use with your compact effect pedals, the AP1 diversity receiver gives you reception you can always depend on. It features a 1/4-inch output jack, Power On/Off switch, Peak LED, and a Volume control. You can use a 9-volt battery or an optional AC adapter from Samson to power the receiver. When you unplug your the unit, the battery is disabled to conserve power.
System Includes:
AP1 "Stomp Box" Style Receiver and AG1 Plug-In Micro Transmitter.
Same Day Music is an authorized dealer of
Samson
products.
AP1 Pedal Receiver:
- Power switch and level control
- Power On/Low Battery LED indicators as well as TX/Peak LEDs
- Dual swivel mounting antennas for optimum positioning
- 1/4-inch unbalanced output jack
- DC input
- Squelch control
- AF1/AG1 Transmitters feature standard 1/4-inch plug, Power/Battery LED, Power switch, 15dB pad switch and operate on single AAA battery
Same Day Music is an authorized dealer of
Samson
products.
Shipping Weights and Dimensions

Channel N1 (642.375 MHz)

Shipping Weight: 1 lbs
Shipping Dimensions: 8 x 5 x 3 in

Channel N2 (642.875MHz)

Shipping Weight: 1 lbs
Shipping Dimensions: 8 x 6 x 3 in

Channel N3 (644.125 MHz)

Shipping Weight: 1 lbs
Shipping Dimensions: 9 x 6 x 3 in

Channel N4 (644.750MHz)

Shipping Weight: 1 lbs
Shipping Dimensions: 8 x 6 x 3 in