Same Day Music is an
authorized Shure dealer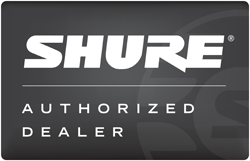 The BLX14R/MX53 Wireless Headset System from Shure joins world-class design and construction with simple and easy setup and operation, featuring QuickScan frequency selection and the discreet MX153T/O-TQG earset microphone for spoken word applications. Legendary sound and performance, right out of the box.
For performers who wish to unplug from the wire, BLX Wireless Systems are the clearest choice. Shure delivers wireless confidence with legendary sound from industry-renown microphones, decades of wireless design proficiency and world-class construction.
System Includes:
- BLX4R rack mount wireless receiver with rack mount kit
- BLX1 bodypack transmitter
- MX153 omnidirectional condenser earset microphone
BLX1 Bodypack Transmitter:
- Up to 14 hours of continuous use (2AA batteries)
- Up to 300 feet (100m) transmission radius (line of sight)
- Quick and easy frequency matching (GROUP and CHANNEL selection buttons)
- Two-color transmitter status indicator LED:
-- Green: "Ready"
-- Rapidly Flashing Red: "Controls Locked"
-- Solid Red: "Battery Power Low" (less than 1 hour remaining)
-- Flashing Red/Power Down: "Batteries Dead" (replace batteries to repower transmitter)
- TQG connection for use with Shure lavalier, headset, earset and instrument microphones and guitar cables
- Tactile on/off switch
- Adjustable gain control
- Lightweight, rugged construction
BLX4R Rack-Mountable Single-Channel Receiver:
- One-touch QuickScan frequency selection quickly locates the best open frequency (in case of interference)
- Up to 12 compatible systems per frequency band (region-dependent)
- Two-color audio status indicator LED:
-- Green: Normal audio levels
-- Red: Excessive audio levels (overload/clipping)
- XLR and 1/4" output connectors
- Adjustable output level
- Removable antennas for quick antenna distribution
- LCD Display with detailed RF and audio metering
- Rack mount kit included
Same Day Music is an authorized dealer of
Shure
products.
Includes:
BLX Headset System with (1) BLX4R Wireless Receiver, (1) BLX1 Bodypack Transmitter, and (1) MX153 Headset Microphone.
Accessories Included:
- (1) Single and Dual Rack Mount Kit
- (2) 1/4 Wave Antennas
- (1) Zippered Transmitter Accessory Bag
- (1) PS23US Power Supply
- (2) AA Batteries
Same Day Music is an authorized dealer of
Shure
products.
Shipping Weights and Dimensions

Channel H8 (518-542 MHz)

Shipping Weight: 7 lbs
Shipping Dimensions: 19 x 15 x 4 in

Channel J10 (584-608 MHz)

Shipping Weight: 7 lbs
Shipping Dimensions: 19 x 15 x 4 in

Channel H10

Shipping Weight: 7 lbs
Shipping Dimensions: 19 x 15 x 4 in

Channel H9

Shipping Weight: 7 lbs
Shipping Dimensions: 19 x 16 x 4 in