Same Day Music is an
authorized Shure dealer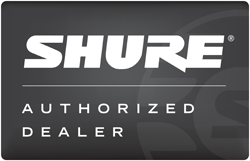 The Shure BLX 24B58 Handheld Wireless Mic System with Beta 58A provides remarkable clarity designed for live vocal applications! This BLX system is designed for ease of use and professional sound quality and reliability that rivals systems that cost much more. The included BLX2 transmitter with Beta 58A mic capsule features a supercardioid pattern and is tailored for lead vocals, making it the ultimate live mic.
BLX2 Beta 58a Handheld Transmitter:
- Integrated microphone capsule design, featuring the trusted Beta 58a supercardioid dynamic element optimized for lead vocals
- Up to 14 hours of continuous use (2 AA batteries)
- Up to 300 feet (100m) transmission radius (line of sight)
- Quick and easy frequency matching (GROUP and CHANNEL selection buttons)
- Two-color transmitter status indicator LED
- Green: "Ready"
- Rapidly Flashing Red: "Controls Locked"
- Solid Red: "Battery Power Low" (less than 1 hour remaining)
- Flashing Red/Power Down: "Batteries Dead" (replace batteries to repower transmitter)
- -10 dB gain attenuation
- Lightweight, rugged construction
- Color ID caps (available separately)
BLX4 Single-Channel Receiver:
- One-touch QuickScan frequency selection quickly locates the best open frequency
- Up to 12 compatible systems per frequency band
- Two-color audio status LED indicators (Green: Normal audio levels; Red: overload/clipping)
- XLR and 1/4-inch output connectors
- Adjustable output level
- Removable antennas for quick antenna distribution
- LCD Display with detailed RF and audio metering
- Rack mount kit included
Same Day Music is an authorized dealer of
Shure
products.