Same Day Music is an
authorized Shure dealer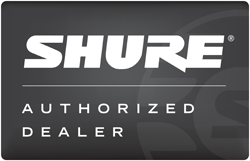 Powerful yet compact, the PGXD1 transmits wireless audio from guitar, bass, or microphone with pure digital clarity and rock-solid reliability.
The Shure PGX Digital systems add the clarity of 24-bit digital audio to the famed PGX line of Shure wireless products. Offering tailored wireless solutions for vocalists, guitarists, and presenters, PGX Digital combines the trusted legacy of Shure microphones with state of the art, 24-bit digital wireless technology that delivers strong, clean RF performance. The result is wireless audio that sounds like wired, rock-solid RF signal, and simple setup and operation.
Features
- Rugged, compact bodypack with belt clip
- 20 Hz - 20 kHz frequency range captures every nuance of tone
- Power, mute, and battery status LED
- 200 ft (60 m) operating range
- Up to 10 hours of continuous use from 2 AA batteries
- Recessed dial on side provides 26 dB of continuously adjustable gain
- Lockable interface prevents accidental setting changes
Same Day Music is an authorized dealer of
Shure
products.
- Audio Input Level:
- - +10 dBV maximum, at minimum gain setting
- - -16 dBV maximum, at maximum gain setting
- Gain Adjustment: Range 26 dB
- Input Impedance: 1 M ohms
- RF Output Level: 10 mW maximum (dependent on applicable country regulations)
- Housing: Molded polycarbonate case
- Power Requirements: 2 "AA" size batteries
- Battery Life: Up to 10 hours
- Dimensions(HxWxD): 108 mm x 64 mm x 19 mm (4.25 x 2.50 x 0.75 in.)
- Weight: 128 grams (4.5 oz.) without batteries
Same Day Music is an authorized dealer of
Shure
products.
Shipping Weights and Dimensions

Group X8, Frequencies 902.00 - 928.00

Shipping Weight: 2 lbs
Shipping Dimensions: 11 x 6 x 4 in