Same Day Music is an
authorized Spectrasonics dealer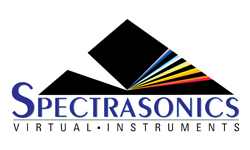 Spectrasonics has released a "Stylus RMX Xpanded" product package which includes the acclaimed Stylus RMX Realtime Groove Module virtual instrument software, plus all five of the award-winning S.A.G.E. Xpander expansion libraries: Backbeat, Retro Funk, Metamorphosis, Burning Grooves and Liquid Grooves. The addition of the Xpanders' 5.5 GB of outstanding acoustic drum and percussion grooves enhance Stylus RMX's already massive 7.4 GB remix-oriented core library.
Since its introduction, Stylus RMX has become one of the most popular and widely-used virtual instruments in the world - offering a quick and easy way to creatively assemble incredible sounding grooves in all the popular host sequencers: including Apple Logic, Digidesign Pro Tools, MOTU Digital Performer, Steinberg Cubase, Ableton LIVE, Cakewalk Sonar and many others. Although the core library of Stylus RMX is focused on "remix" genres, the thousands of Xpander grooves that are included in the package vastly broaden the musical scope of RMX by offering grooves and sounds for any style of music.
Includes:
- Stylus RMX: Realtime Groove Module virtual instrument for Mac/Windows
- Backbeat Xpander: Live Acoustic "Straight-ahead" drum grooves
- Retro Funk Xpander: Authentic vintage sound, feel and classic grooves
- Burning Grooves Xpander: Maximum impact, aggressive live drum grooves
- Liquid Grooves Xpander: Unique acoustic drum and percussion grooves
- Metamorphosis Xpander: 21st Century remix grooves
- Multi Library: Hundreds of amazing Multi-groove patches
- Bonus Section: Grooves from Vocal Planet, Distorted Reality and more
- A total of over 13 gigabytes of massive sounds and grooves
The grooves on these Xpanders were produced by Eric Persing and feature numerous top session drummers including Abe Laboriel Jr, Gregg Bissonette, Bob Wilson, Eric Boseman and John Ferraro. They were recorded by Grammy-winning engineers at several legendary Hollywood studios. The wide range of tones and styles of the five Xpanders provide a versatile starting point for users to create authentic rhythm tracks.
"The RMX Xpanded package offers a whole world of sound and grooves for a new user," said Eric Persing, Founder and Creative Director of Spectrasonics. "We wanted to make it an easy choice for music producers to get Stylus RMX for any type of music they want to create. With the thousands of grooves, millions of possible user-created combinations along with REX file importing and all the unique editing capabilities such as Chaos Designer, built-in effects and Edit Groups, there's a vast and inspiring sonic palette that awaits."
Stylus RMX is fully compatible with all current Mac OSX computers including Apples' Intel Mac hardware, and also with all current Windows PCs including Vista. The Stylus RMX Xpanded package includes Stylus RMX and five SAGE Xpanders: BackBeat, Retro Funk, Metamorphosis, Liquid Grooves, Burning Grooves.
Same Day Music is an authorized dealer of
Spectrasonics
products.
Because the Stylus RMX plug-in is extremely versatile, we have listed two sets of System Recommendations: one for using a single part (which can have up to 60 grooves on a single channel), and another for using RMX as a multitimbral module which allows hundreds of grooves on multiple channels, multiple simultaneous effects, access to multi patches and the use of the special Kit Mode.
System Recommendations
- 2.0 GHz or higher processor
- 2GB RAM
- Dual Layer compatible DVD-ROM drive
- 14GB of free hard drive space
Macintosh:
- OSX 10.5 Leopard or higher
Intel Processor
- AU, VST 2.4 or higher, RTAS capable host software
- Audio Unit plugin requires host with support for "Cocoa" based plugins
- Native 64-bit and 32-bit on OSX
Windows PC:
- VST 2.4 or higher, RTAS capable host software
- Microsoft Windows 7/Vista
- Native 64-bit and 32-bit on Windows
Same Day Music is an authorized dealer of
Spectrasonics
products.
Shipping Weights and Dimensions

Shipping Weight: 2 lbs
Shipping Dimensions: 10 x 8 x 3 in