Same Day Music is an
authorized Stanton dealer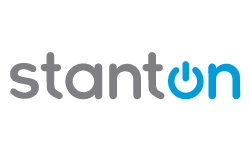 In creating the STR8.150HP, Stanton went back to basics and re-engineered everything. These "no nonsense" turntables have everything professional DJs need, and nothing they don't. That's why the STR8.150HP is built with quality in mind, first and foremost. The STR.150HP turntable offers durable construction designed to minimize feedback, industry-leading torque motor up to 4.5 Kgf-cm, and an ultra-stable platter and skip-proof striaght tone arm. With features like Key Correction, Reverse, up to 50% pitch adjustment, and S/PDIF digital outputs, the STR8.150 is a strong contenders for the title of Turntable Supreme.
Features:
- World's strongest torque motor (4.5 Kgf-cm)
- Heavy-duty steel construction
- Ultra-stable platter and height-adjustable tone arm
- Includes Stanton 680V3 Cartridge mounted on headshell
- Start/brake speed adjustment
- Digital S/PDIF output: Plug straight into CD-R or computer sound card
- Key correction
- Selectable phono or line output (Key correction works on line output only)
- Dual start/stop buttons
- Reverse Play
- 3 speeds [33,45,78]
- Quartz Lock
- Selectable pitch control [+/-8%, +/-25%, +/-50%]
- Motor Off feature
- Removable target light
- Adjustable feet
- Includes slipmat and L-shaped cables
Note:
Some assembly required.
Same Day Music is an authorized dealer of
Stanton
products.
Turntable Specifications:
- Starting Torque:
More than 4.5kgf.com
- Motor:
Direct Drive/16pole, 3phase, brushless DC motor
- Turntable Platter:
332 mm diameter Aluminum die-cast
- Pitch Controls:
+/-8%, +/-25%, +/-50%
- Wow & Flutter:
Less than 0.1% WRMS (JIS WTD) with 33 1/3rpm
- Braking System:
Electronic brake
- S/N Ratio:
More than 60dB (DIN-B)
- Channel Separation:
More than 15 dB
- Tone arm type:
Static balanced straight tone arm with Cardan's suspension and detachable headshell
- Effective Arm Length:
194mm
- Tracking Force Range:
0-3g
- Applicable Cartridge Weight:
13-18g
- Channel Balance:
Within 2.5dB at 1 KHz
- Needle Pressure range:
2-5g
680.V3 Cartridge Specifications:
- Stylus Type:
Spherical 0.7 mil; Special High Polish
- Frequency Response:
20 to 18 kHz
- Nominal Output @ 1kHz:
7.0mV
- Channel Separation @ 1 kHz:
30dB
- Channel Balance @ 1 kHz:
within 2dB
- Tracking Force:
2 to 5 grams
- DC Resistance:
1300 ohms nom.
- Inductance:
930 mH
- Cartridge Weight:
6.3 g
- Tracking Ability:
80 mu @ 3 grams
- Recommended Load:
47k ohms and 275 pF
- Supplied Stylus:
N 680
Same Day Music is an authorized dealer of
Stanton
products.
Shipping Weights and Dimensions

Base Item

Shipping Weight: 42 lbs
Shipping Dimensions: 22 x 18 x 9 in