Same Day Music is an
authorized Tama dealer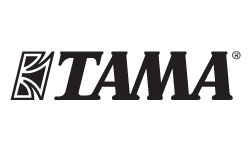 The Starclassic Performer line offers the same Star-Cast Mounting System, thin shells and die-cast hoops found in the Starclassic Maple line. Now pro drummers can choose between the brighter, tight sound of Starclassic Maple or the darker tone, strong projection, crisp attack and aggressive open sound of Starclassic Performer Birch.
Includes:
SRB22E 18 in. x 22 in. bass drum
SRT10A 8 in. x 10 in. tom tom
SRT12A 9 in. x 12 in. tom tom
SRT14A 11 in. x 14 in. tom tom
MTH1000U tom holder
MTH900AS single tom attachment
MC61 multi-clamp
Cymbals not included
"ALL" Birch Shell
Tom Tom / Floor Tom: 6mm, 6ply
Bass Drum: 7mm, 7ply
With so many Maple kits on the market today, it's almost hard to remember that just 15 years ago, Birch kits were more popular than Maple. But a significant number of pro players still prefer the sound of Birch and many more are rediscovering Birch's round, slightly darker sound and great projection. Starclassic Performer shells are 100% Birch with thin-shell construction that offers a resonance and clarity that rivals some of the best Maple kits. Best of all, advances in drum technology allow Tama to offer this fully professional drum for the price you'd pay for an intermediate set.
Star-Cast Mounting Systems
When you pick up a tom by the rim and hit it, it resonates much more freely than one mounted on a tom holder. Tama's Star-Cast mounting system uses an ingenious combination of features to provide the same kind of unrestrained resonating environment as a hand held drum. Instead of being attached to the shell, the tom brackets are attached to the batter side hoop at 3 balanced points. The bolts used to secure the rims to the bracket have also been specially designed. Each bolt is encased in rubber.
As illustrated, the top and bottom thread rods are not connected. This substantially reduces unwanted vibrations traveling through the bolt. Rubber isolators have been used throughout the system to eliminate any metal-to-metal contact. All of these features work together to provide unparalleled tom isolation, complete shell resonance, and studio quiet performance. There are none of the troublesome head changes and adverse effects on tuning found in less advanced systems.
Die-Cast Hoops
Hoops not only affect drum tuning; they also affect drum sound. That's why the choice of hoops was so important to the designers of Tama's professional drum lines. For Starclassic Maple and Starclassic Performer, Tama chose zinc die-cast hoops, which are manufactured by injecting molten metal into molds. Die-cast hoops have more density and are more consistent in shape than triple flanged hoops, which are manufactured by bending metal plates. Die-cast hoops make tuning more consistent and easier to achieve because the tension bolts always contact the hoop properly. Drums fitted with die-cast hoops also offer crisper attack, clear and resonant highs and much more powerful rim shots.
Clawhooks
Starclassic's new claw hooks feature rubber spacers that help protect wood hoops from damage. The hooks and hoops work as one unit and won't separate or rattle, even on loose tunings.
Sliding Tom Holder Base
Starclassic Performer tom holder lets you adjust the post-position closer or nearer to you as well as higher and lower. The tom holder base offers 6 positions every 15mm so you can easily locate and lock in the most comfortable tom position.
Bass Drum Spur Bracket
Tama's MSB30 die-cast bracket holds the spur bracket holds the spur securelt, thanks to the same powerful hinge mechanism used on the MTB30 mounting bracket. Unique memory markers found on the folding spur bracket help simplify set up.
Air Pocket Rubber Feet
Starclassic's new floor tom legs are equipped with Air Pocket rubber feet. Air Pockets feature a special air chamber that eliminates the transfer of vibrations to the floor (which chokes sustain and sound) and absorbs shock for a better playing feel.
Evans Heads
Evans drum heads are featured on all Starclassic Maple and Performer drums (except bass drum front heads). On the rack and floor toms, Genera G2 2-ply clear batter heads and Genera G1 1-ply clear bottom heads provide both durability and solid sound. Starclassic bass drums are fitted with Genera EQ4 clear batter heads.
Same Day Music is an authorized dealer of
Tama
products.