Same Day Music is an
authorized Tascam dealer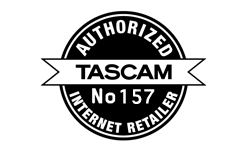 The Tascam PT-7 is a unique combination chromatic tuner, metronome and memo recorder for acoustic and electric musicians. The tuner features a high-speed graphic display, ideal for students to find their pitch on wind and string instruments, and an oscillator tone can also play for pitch reference. The metronome plays through the built-in speaker or headphone out and includes a visual display to keep the beat.
Also included is a monophonic recorder, providing 20 minutes of recording time for song ideas or practice playback. Recorded music can be looped or slowed down without changing the pitch, so that students can learn to play along with the instructors' example. Though designed for the acoustic instrument player and educator, the Tascam PT-7 is the ideal companion for any chromatic instrument player.
Tuner Features
- High-speed chromatic tuner
- Calibration option
- Oscillator out function
- 8 musical scales (12-note equal temperament, Pythagorean, Mean Tone, Werckmeister III, Kirnberger III, Kellner, Vallotti, Young)
- On-screen display ideal for students' "Pitch Training"
Metronome Features
- 30-300 bpm metronome
- Internal speaker or headphone output
- Six time signatures (0-7 beats, duplets, triplets, shuffle, quadplets, quadplets without center beats)
Recorder Features
- Record practice through built-in microphone
- Loop and slow down playback without changing the pitch
- Quickly capture song ideas or phrases
- 20 minute recording time
Same Day Music is an authorized dealer of
Tascam
products.
Specifications
Internal speaker
Headphone Output
Custom Backlit LCD display
Powered by AA battery or optional PS-P520 adapter
Flip stand on rear panel
Dimensions (WxHxD): 5.9 x 2.5 x 1.0 in.
Weight: 0.33lbs/150g without battery
Battery life approx. 10 hours (without backlight) / 4 hours (with backlight)
Same Day Music is an authorized dealer of
Tascam
products.