Universal Percussion Cowbell w/Bass Drum Mount
Universal Percussion found the cure for your fever.
This product has been discontinued or is no longer sold by SameDayMusic.
Shop our website for related products:
(In most cases, a product is unavailable because it has been discontinued by its manufacturer.)
Universal Percussion Cowbell With Bass Drum Mount Product Description
Same Day Music is an
authorized Universal Percussion dealer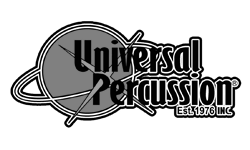 Cowbellist? Cowbeller? Cowbeater? Cowbeatist? No matter how you slice it you've still got a cow in there. If you've ever seen a cow with a bell, all 20 of you, you know those bells better be able to a take a beatin' from a 2-ton cow and still be heard. With that in mind Universal Percussion created a cowbell that can withstand the not even equal power of a man with long hair, short thick stick, and urge to rock a instrument worn by cows on occasion.
It's not unheard of in this day and age to see the renewed resurgence of an instrument once relegated to creating ambient music for dudes with overalls. Spanning many genres from dance-punk, hesher psych hard rock, space prog rock, fiery spoken word sermons to simply tolling the bell for dinner there is nothing a well made cowbell can't touch... and rock the heck out of. For those times reach for the Universal Percussion Cowbell ones that even includes a bass drum mount, for the drummers out there flailing away at it as well.
Same Day Music is an authorized dealer of
Universal Percussion
products.
User Reviews for Universal Percussion Cowbell With Bass Drum Mount