Same Day Music is an
authorized Allen and Heath dealer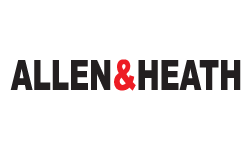 The Allen and Heath Xone:DB range exploits the potential of digital mixer technology to bring you maximum DJ creativity. Flexible and versatile mixer controls with an intuitive layout give the DJ full control over the mix.
The Allen and Heath DB2 boasts twin chainable FX engines, four stereo channels, full Input matrix, and unique Trimodal EQ system. With its built in USB soundcard, MIDI control, Xone Filters and X:LINK connectivity, the Xone:DB2 unleashes the DJ's creativity. The Xone:DB2 captures the essence of DB4 in a stylish, accessible, affordable format and blurs the boundaries between DJing, production and performance for the next generation.
Massive FX Library
Boasting a massive FX library of more than 50 FX presets divided into 5 FX types: Delays/loopers, Reverbs, Resonators, Modulators and Damage, Xone:DB2 allows you to dig deep and get hands-on with your music. From subtle FX washes to total transformation of your sound -- you're in control.
FX Cascade
The two FX engines can be cascaded, or chained, to run the output of FX-X to the input of the FX-Y, allowing the audio to be processed by any combination of two different effects. Additionally any channel routed to FX-X can be processed by both engines, but the single effect on the FX-Y engine can still be accessed by routing the channel to Y.
Editable FX Parameters
Each FX engine has a dedicated expression control and a rotary pot to set the wet/dry level, whilst further tweaking can be performed using the global controllers under the screen.
Input Matrix
Each of DB2's four input channels has a full input matrix that can select from four analogue (Line or RIAA), four USB, or two digital sources, allowing for a wide variety of audio sources to be connected simultaneously. The same source can also be selected on multiple channels.
Trimodal EQ
Xone:DB2 adopts the fresh approach to creative equalization introduced on DB4. The EQs can be used in three different modes -- standard asymmetric EQ (+6/-26dB), total Kill (+6dB/OFF with a 24dB/octave slope), or High-Pass/Low-Pass filter with adjustable resonance.
Mic/Line Input
With 2 band EQ, gain, cue and mix level and with full access to FX.
High Visibility OLED Display
The OLED display is clearly visible, even in bright sunlight, and displays channel FX selection and current BPM, as well as being an easy interface for the Menu setup functions.
Lightweight Chassis
DB2's lightweight aluminum chassis is designed to make touring with the console easy.
Integral Soundcard
The built-in, multi-channel USB2 soundcard allows replay and recording from computer-based audio software for 4 stereo sends and 4 stereo returns.
MIDI Control
All controls (except Mic and Phones level) send MIDI data. The mixer can double up as a MIDI controller for DJ software via the MIDI shift button, which allows the FX selection controls to send MIDI data without changing the mixer settings. DB2 can generate internal MIDI clock which can be used to control the tempo of a connected DAW via USB and the ability to change the mixers MIDI channel.
X:LINK: X:LINK
uses a standard RJ45 connector and distributes power and data, allowing connection to X:LINK compatible devices, saving USB ports on your computer.
Spatial Xover
Useful output processing tool for dealing with poor room acoustics, less than ideal speaker placement, as a diagnostic tool for phase imbalance, or as an effect to change the bass sound focus.
Features:
- 4 Channel DJ mixer with Effects
- Xone Dual Filter System
- Input Matrix per channel
- 24bit/96kHz Integral Soundcard
- Mixer offers MIDI Control
Same Day Music is an authorized dealer of
Allen and Heath
products.
- Channels: 4 + mic
- Analog Inputs: 2 x stereo RCA line, 2 x stereo RCA line/phono, 1 x XLR mic
- Analog Outputs: 2 x XLR, 2 x 1/4", 1 x stereo RCA
- Digital Inputs: 2 x stereo S/PDIF (coaxial)
- Digital Outputs: 1 x stereo S/PDIF (coaxial)
- Headphones: 1 x 1/4"
- Other I/O: 1 x X:LINK (RJ45), 4 x Deck Start (1/8")
- Faders: 4 x long throw
- Crossfader: Adjustable
- EQs: Configurable as asymmetric 3-band (+6/-25dB) with kills, Isolator (+6dB/off), or Highpass/Lowpass filters
- Effects: 2 x effects engines, each with delays, reverbs, modulators, resonators, and damage effects
- Audio Interface: 4-in/4-out, 24-bit/96kHz via USB
- MIDI Control: Complete MIDI control
- Playback Built-in: No built-in playback
- Dimensions (W x D x H) 12.6 x 14 x 3.5"
- Weight: 11 lbs.
Same Day Music is an authorized dealer of
Allen and Heath
products.
Shipping Weights and Dimensions

Base Item

Shipping Weight: 18 lbs
Shipping Dimensions: 21 x 19 x 10 in