Same Day Music is an
authorized ADJ dealer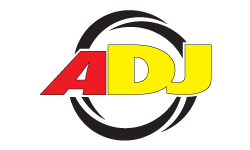 The American DJ Pro64B LED RC is high output black PAR Can with twenty-four 1-Watt LEDs that is ideal for lighting up stages, dance floors and entertainment venues. The fixture's RGB color mixing allows users to get a full spectrum of color from one PAR Can. The Pro64B LED RC features an Infrared wireless remote to control what would normally require a DMX controller or adjustments made by hand on the rear panel. Aim the wireless remote at the unit and control features such as: Black Out, built-in programs, flash, DMX addressing and RGB color change.
This fixture uses LEDs rated at 50,000 hours with a maximum power draw of 30W. DMX addressing may also be changed by the unit's 3-button LED display. The Pro64B LED RC has a dual hanging bracket that makes it easy to set on the floor, has a wide 40-degree beam angle and has IEC In/Out connectors so users can daisy-chain the power from one unit to the next.
Features:
- Black bright PAR 64 with 24x 1-Watt LEDs (6 Red, 9 Green, and 9 Blue)
- Great for performance stages where traditional PAR cans emit a lot of heat onto performers
- Includes wireless infrared remote control up to 15 ft./4.5M
- 7 DMX Channel modes: 1, 2, 3, 4, 5, 6 or 7 channel modes
- 6 Operational modes: Manual Color Mode; Color Change Mode; Color Fade Mode; Auto (Program Run) Mode; Sound Active Mode and DMX-512 Mode
- Smooth RGB color mixing (fast or slow color change operation)
- Flicker-free operation for film and television
- 32 built-in Color Macros
- Color strobe effect
- Electronic Dimming: 0 - 100%
- Beam angle: 30-degree
- Linkable via 3-pin XLR cable (In/Out)
- 3-button LED display on rear panel
- Dual bracket system allows fixture to be hung or set on the ground
- IEC AC outlet on rear to daisy chain power
- Run all night - No duty cycle
- Long Life LEDs (50,000 hrs.)
American DJ LED RC Infrared Remote Control Features
- Black Out: Turns fixture On/Off
- Auto Run: Automatically run through built-in programs
- Program Selection: Access units built-in programs
- Flash: Strobe effect
- Speed: Control speed of Auto Run
- DMX Mode Select
- Sound Active: Activates sound active mode
- Slave: Designates the fixture as a slave fixture in the Master/Slave configuration
- Set Address: Set DMX Address on a fixture
- RGB Buttons: Adjust RGB colors with the + and - buttons
- + and - Buttons: Adjust flash rate, speed of the Auto Run and Program Selection
Same Day Music is an authorized dealer of
ADJ
products.