Same Day Music is an
authorized ADJ dealer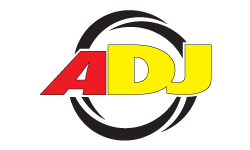 The American DJ WiFlex DMX Wireless DMX System is a transmitter and receiver package that is compatible with all standard DMX controllers and fixtures in the market. It was designed to transmit DMX signal wirelessly, up to 500 feet, between your DMX console and fixtures. One WiFlex transmitter can send a constant/reliable signal to several WiFlex receivers.
Features:
- 512 USITT DMX channels per system
- System includes 1 Transmitter and 1 Receiver
- Threaded clamp hole for mounting
- Multiple receivers can be used per transmitter
- 1 button synchronization
- Up to 500 wireless feet (open line of sight)
- Special Frequency Hopping algorithm
- 3-pin XLR
The American DJ WiFlex DMX system features a special frequency-hopping algorithm that is more advanced than the standard FHSS (Frequency Hopping) technology. The algorithm used in WiFlex DMX avoids 'Blackout' periods, which is caused by interference from other W-LAN or any other wireless products using the 2.45 GHz band, and only uses channels that are not used. WiFlex DMX is the ideal solution for DJs, nightclubs, bars or for any event where you don't want data cables to be seen and when it is not easy to run data cables to your fixture(s) location.
System Components:
- 1 WiFlex DMX-T - Transmitter
- 1 WiFlex DMX-R - Receiver
- 2 5dB antennas
- 2 Locking IEC power cords
- 1 User manual
Same Day Music is an authorized dealer of
ADJ
products.
- RS485 Interface: USITT DMX512
- Input voltage: 100-240VAC 50~60Hz
- Power consumption: 300mA maximum
- RF Frequency band: 2.400~2.483MHz
- RF Channels: 1-16
- RF channel data rate: 250Kbps
- RF Transmitter power: = 18dBm
- RF Receive sensitivity: = -90dBm
- RF Antenna connector and Impedance: SMA, 50O 5%
Same Day Music is an authorized dealer of
ADJ
products.