Same Day Music is an
authorized Adam Audio dealer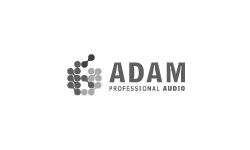 The A7X in the AX series is ADAM Audio's most popular model. With the F7, we proudly present a speaker with the same dimensions and a similar sound quality, but at a lower price point.
Tweeter
The F7, too, features ADAM Audio's proprietary Accelerating Ribbon Technology, the most famous of all ADAM inventions, assuring for utmost clarity of the high frequencies.
Midwoofer
The 7" carbon/paper-midwoofer comes with a 37 mm voice coil. It has been designed to perfectly complemet the ART tweeter. It stars in both the deep registers and the musically crucial midrange.
Controls
The F7 shares the same controls one finds in the F5: a volume knob (-0 to +6dB) and two room EQ's for both the high (>5 kHz) and the low (<300 Hz) frequencies.
In 2009, ADAM introduced the X-ART technology, a refined version of ART to improve what many considered to be the benchmark in tweeter technology. In 2010 and 2011, ADAM brought to market the lower price AX series of monitors, including the A7X, successor to the A7, bringing the acclaimed ADAM sound to more professional engineers than ever before. Now, in 2012, ADAM takes that experience to the next level and proudly presents an even more affordable entry line of studio monitors.
The F series: The ART of Affordability
Consisting of two nearfield monitors and a dedicated subwoofer, the F Series is designed in the tradition of the legendary ADAM professional monitors. The aim is to focus on the essence of ADAM speakers at a lower price point.
The F5 and F7 near field monitors feature a version of the ADAM proprietary Accelerating Ribbon Technology. These tweeters reproduce the high frequencies with the very airiness, clarity, and detail ADAM is famous for. The high performance woofers are designed to seamlessly integrate with the tweeters performance.
Wherever deeper and more powerful bass response is required, the SubF subwoofer comes into play. It has been specifically designed to match the F monitors and will perfectly complement them in any set up.
Same Day Music is an authorized dealer of
Adam Audio
products.
- Woofer:
- 6.5 inches (165 mm)
- Rohacell/Carbonfibre sandwich
- Frequency Response (+/- 3 dB): 46 Hz - 35 kHz
- Panel (Rear-mounted): Input/HF gain, Hi/Lo EQ
- Power: 50 Watts (sin), 80 Watts (RMS)
- Inputs:
- Balanced XLR
- Unbalanced RCA
- Dimensions (W x H x D): 7 x 13 x 11 inches (180 x 330 x 280 mm)
- Weight: 17.8 pounds (8.1 kg)
Same Day Music is an authorized dealer of
Adam Audio
products.