Same Day Music is an
authorized Albion dealer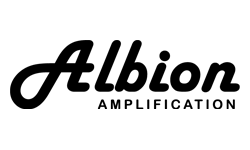 Get classic British sound built in the Albion factory. The Albion AG10 combo features a very unique "hybrid" preamplifier section combining a 12AX7/ECC83 tube and high voltage FETs (field effect transistors). This combination of circuit gives great tube sound, at an affordable price. The Albion AG10 also uses an 8-inch loudspeaker instead of the 6.5" loudspeaker as used by most of the AG10's competition.
Once upon a time, lower-entry guitar amp products were just that -- low in sound and build quality. The Albion AG range blows that conception totally out of the water. The Albion AG10 is designed from the ground up as a "real" guitar amp. Amps that can be proudly used by guitar-players of any standing, from beginner to pro; without spending the "big bucks" of a top-end system. Perfect for practice and club gigs without any sacrificing of tone quality or playing "feel."
The ingredients behind the Albion AG guitar amps, apart from being designed by a top-end designer, come together using a variety of technologies -- high voltage FET devices, valves, and good solid-state design. The preamps of each model are a developed family of FET and valve, but unlike many competitive models, the preamp technology works at high voltage just like these devices should do for their best performance. This gives a dynamic range, punch, and a tonal response more akin to more expensive pro amps but with much less maintenance than is required for their bigger brothers. These amps will perform consistently day after day.
With a guitar amp, the sonic quality of the amp is only as good as the speaker system that it is connected to. Throughout the AG series we use better performing loudspeakers than the competition. For instance in Albion's AG10 model we use a quality 8" speaker as compared to the 6.5-inch speakers in other brands -- it makes a big, big difference!
Features
- 10-watt combo amp with Tube preamplifier
- A solid-state power amp circuit that also has some "tweaks" that lead to a very convincing valve-like tone
- One Albion 8 in. custom 8 ohm speaker
- Black vinyl with grey grille cloth and gold Albion logo
- Three-band Passive EQ, gain, and volume knobs with switchable overdrive
- 3.5mm headphone output jack and 3.5mm aux input jack on the top panel, 1/4 in. speaker out on the rear
- Open back design with 1/4 in. speaker out on the rear for plugging into a bigger cabinet
- Top mounted carrying strap
Same Day Music is an authorized dealer of
Albion
products.