Same Day Music is an
authorized Albion dealer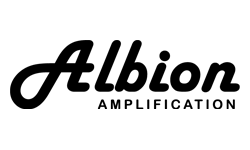 Get classic British sound built in the Albion factory with the Albion TCT50C guitar combo amplifier. The Albion TCT50C amplifier has 2 separate switchable channels, both featuring the same controls per channel. Channel A features the EQ circuit before the gain stages, while Channel B features the EQ after the gain stages. Both channels feature the capability of running (depending on control settings) from "clean" through "crunch" to "high gain lead". But due to the different "voicing" provided by the EQ position (and other voicing elements), both channels have an entirely different spectral response and player's "feel". Two custom designed 12 inch Albion speakers are used to give it the classic tone.
The TCT range of valve amps sound as good as they look. Albion uses Birch Ply for all their cabinet work utilizing interlocking panels and resonance controlling reinforcing struts. Proprietary vinyl covering and custom cabinet hardware is used throughout the range. The final touch is a piano-finish stained walnut baffle-plate giving a lustrous dark plum coloured contrast to all the TCT range. The amplifiers feature a seam-welded steel chassis to securely hold the heavy duty transformers, well supported FR4 printed circuit boards (many being double-sided PTH types) and chassis mounted valve bases. Albion designs and builds their own transformers and loudspeakers. All PCBs, wire, plastic and die-cast parts, and speaker cones are custom designed and built in house.
The TCT amps are all twin channel switching amplifiers, with the TCT50 and TCT100 also having foot-switchable MIX circuitry that combines both channels to give a third sonic option. Although each channel has differing voicing structures (Channel A has the EQ pre-gain, Channel B is post-gain) they both go from "clean to scream" for ultimate functionality and wide tonal response. Switchable tonal options on each preamp also extend the possibilities on the TCT50 and TCT100. All the TCT amps also feature wide ranging power amp controls widening the tonal response even more - switchable feedback loops, Edge (presence) and Depth controls, output Phase and 33% power switching. Natural sounding digital Reverb and a series FX loop round off the amp functions.
The supplied footswitches also have a very useful feature - the cable connection can be easily user-changed from left to right to more adequately suit your stage rig preference. It's simple but so effective!
Features
- 50 watt vacuum tube 2 channel combo amp with two EL34 and five 12AX7 tubes
- Unique input stage combines the preamp tube with an FET circuit to give lower noise, higher gain, better tonality, and lower microphonics
- Black vinyl with grey grille cloth and plum lacquered cat's eye maple trim board with gold Albion Logo
- Channel A is pre-EQ and channel B is post-EQ for more tonal options
- Power amp Variable Edge control is like a presence control but can boost or reduce high frequencies for a sweeter tone
- Power amp Variable Deep control is an active graphic type circuit that works around the resonance area of the speakers to increase the punch and bass
- Separate three-band wide range passive EQ, gain, drive, and volume knobs for Channel A and B
- Switchable phase from plus or minus
- Tight switch on each channel switches the low frequency voicing from deep low to a shelved high pass filter
- Smooth switch alters the voicing from bright and attacking to a smoother less high frequency style
- Shift switch alters the mid frequency to a different position and provides a different EQ spectrum
- A-B channel switching and Mix mode to combine channels are available options
- Includes footswitch for A/B channel, Mix mode, and Effects switching
- Effects loop and adjustable solid state digital reverb
Same Day Music is an authorized dealer of
Albion
products.