Ampeg SVT4PRO Bass Amplifier Head (1200 Watts) Product Description
Same Day Music is an
authorized Ampeg dealer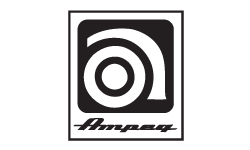 The sound is in your head. You've played countless instruments in search of the ultimate soul mate. Now you need an amp that will speak your sound to the audience. That's where the Pro Series heads live. The Ampeg SVT-4PRO head features multi-tube preamps (not a single 12AX7 like many competitors), 5-position mid frequency selection, and Neutrik Speak-On connectors that lock and provide better conductivity. A Mute button lets you change instruments in the middle of a set without the annoying "pop," and a Tuner Out jack that stays active even with Mute button on. The Ampeg SVT-4PRO is built for the long haul. The SVT-4PRO remains cool with variable speed fans that only turn as the temperature dictates. DC supplied filaments ensure noise-free tube performance. And the 1/8-inch thick extruded aluminum front panels not only allow safe racking, the contoured fronts have an awesome look. The 1200-watt Ampeg SVT-4PRO is the industry's highest powered bass amp. Your creative mind now has the palette to deliver the goods.
Features
- Input Peak LED
- Dual 1/4-inch inputs
- -15 dB pad
- Variable 0 - 7:1 compressor
- Bright switch
- 9-band graphic EQ
- Defeatable Optocoupler limiters
- Internal 24 dB/Octave crossover
- Linkwitz-Riley state variable filters
- 50-1KHz variable crossover point
- High/Low balance control
- Tuner Out jack
- Mute function
- 1/4-inch Biamp High and Low Outputs
- AC convenience outlet
- 15-amp circuit breaker
Same Day Music is an authorized dealer of
Ampeg
products.
Ampeg SVT-4PRO Technical Description
- Dimensions: 19 x 5.25 x 15.5 in.
- Weight: 42 lbs.
- Balanced Line Out: Yes x 2 (Transformer)
- Driver Tubes
- Effects Loop: Yes x 2
- Graphic EQ: 9-band
- Mid Tone Control: 5 pos
- Power Amp (Tube or MOSFET): MF
- Preamp (Tube or Solid State): T (3 x 12AX7)
- RMS Power Output (2 ohms): 600 x 2
- RMS Power Output (4 ohms): 490 x 2/1200
- RMS Power Output (8 ohms): 300 x 2/900
- Tone Controls: 3-band
- Ultra Low/High Boosts: Yes
Same Day Music is an authorized dealer of
Ampeg
products.
Shipping Weights and Dimensions

Base Item

Shipping Weight: 49 lbs
Shipping Dimensions: 26 x 21 x 10 in
Ampeg SVT4PRO Bass Amplifier Head (1200 Watts) Catalog Description
Tube preamp, massive solid state power@3-band rotary EQ with selectable midrange@9-band graphic EQ; variable crossover with high/low mix control@Opto limiter; variable compression@Tuner and dual DI outputs; high/low biamp outputs@300 watts per output at 8 ohms, 1200 watts at 4 ohms bridged
Same Day Music is an authorized dealer of
Ampeg
products.