Same Day Music is an
authorized Ampeg dealer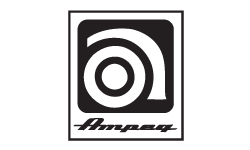 The world-renowned Classic Series Cabinets are synonymous with bass enclosures and the sound they are expected to produce. From the undeniable tone of the SVT-810E to the unexpected low end of the extended range SVT-410HLF, Ampeg enclosures have set the standard for decades. All enclosures feature dual Neutrik Speak-On and 1/4" input/output jacks. Cabinets using high frequency horns contain a variable level attenuator. To prevent overpowering and damaging the horns, a resistive bulb is wired in series with the horn for protection.
A Workhorse of a Different Color
The Ampeg SVT-810E is the speaker enclosure people mean when they say SVT speaker cabinet. It's all about tone. Other than the color scheme, it is identical to the original SVT-810.
Why eight 10" speakers? Ampeg learned early on that 10" speakers work much more efficiently than fifteens or eighteens -- and if you put eight 10" speakers together, you can move a huge column of air. You'd need five 18" or six 15" speakers to move as much air as the SVT-810E. And they simply wouldn't be able to respond to transient peaks as quickly as Ampeg's tens.
The Ampeg SVT-810E is still manufactured using the same design dating all the way back to 1969. The Infinite Baffle design of these sealed enclosures produces vast amounts of tightly focused bass. That's why you'll find the SVT-810E on stage with such artists as Chris Squire (Yes), Geezer Butler (Black Sabbath), John McVie (Fleetwood Mac), and far too many others to list here. In the world of high performance bass cabs, the Ampeg SVT-810E stands tall and proud.
Same Day Music is an authorized dealer of
Ampeg
products.
- Dimensions: 48 in. x 26 in. x 16 in. (1.2m x 66cm x 40.6cm)
- Weight: 165 lb. (74.8 kg)
- Component 1: Magnet Weight: 30oz (0.85kg)
- Component 1: Size: 8 in. x 10 in.
- Component 1: Voice Coil: 2 in.
- Frequency Response (-3 dB): 58 Hz - 5 KHz
- Maximum SPL: 130 dB
- Nominal Impedance: 2 x 8 Ohms
- Program Handling: 2 x 800 Watts
- RMS Handling: 2 x 400 Watts
- Sensitivity: 100 dB
- Usable Low Frequency (-10dB): 40 Hz
- Connections: 1/4 Inch and Speakon
- Protective Skid Rails
- Stereo or Mono Operation
Same Day Music is an authorized dealer of
Ampeg
products.
Shipping Weights and Dimensions

Shipping Weight: 166 lbs
Shipping Dimensions: 52 x 28 x 20 in
Incredible presence and resonance@8 x 10" speaker cabinet@Stereo or mono@Speakon connectors@Handles 800 watts
Same Day Music is an authorized dealer of
Ampeg
products.