Same Day Music is an
authorized Aphex dealer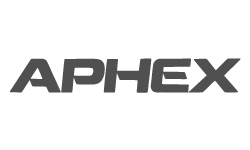 Combine a Class A microphone preamp and classic optical compressor with Aphex's patented Big Bottom and Exciter processors into an easy to use channel strip and you've got everything in the Aphex Project Channel you need to get a fully sculpted signal. Rear panel analog I/O, digital output and front panel instrument input make the Project Channel flexible enough for any situation.
Essential Channel Strip
Project Channel is an extremely high quality channel strip, designed with ease of use in mind. The front panel is streamlined and very approachable. The included optical compressor features a single-knob ratio control. Using this one knob and the 10-segment gain reduction meter, it is very easy to keep the dynamic range of the signal under control. The Aural Exciter brings the essence of an instrument or voice out to the front making it easy to hear in a mix. The Big Bottom processor adds punch to your low end in a way that no EQ can. The S/PDIF digital output and dBFS output meter make it extremely easy to get a proper digital signal to an audio interface for recording. The front panel sample rate button allows for easy selection of sample rates from 44.1kHz to 96kHz. Analog outputs are also provide for use with outboard A/D converters or use with analog mixers. The front panel instrument input allows for great sounding direct recordings of bass and guitar. This input automatically overrides the rear panel XLR mic input, allowing the user to keep a mic plugged in.
While it's easy to find similar products with more features, you'll be hard pressed to find a similar product that sounds better.
Class A Preamp
Ultra-wide bandwidth, maximum gain and headroom
Inspired by classic British and American recording consoles
Optical Compressor
Uses Aphex's proprietary optical element for speed adjustability from compression to leveling
Big Bottom
Patented technology for deeper and more resonant bass with little or no increase in peak output
Aural Exciter
Patented technology for increased presence and clarity with improved detail and intelligibility
Features:
- Hi-Z Instrument Input
- Class A Mic Preamp with +48V Phantom Power
- Aphex Optical Compressor
- Output and Compression Gain Reduction Metering
- Aural Exciter
- Big Bottom
- S/PDIF Digital Output
Same Day Music is an authorized dealer of
Aphex
products.
Input:
- Connector: XLR-3F
- Type: Transformerless, Instrumentation first stage, Class-A second stage
- Input Z: 2k ohms nominal
- Instrument Connector: 1/4" TS
- Instrument Input Z: 10Mohm nominal
- Nominal Preamp Gain: +26 to +65dB without pad
- Phantom Power: +48VDC
- EIN: -126dBu (150 ohm source, unweighted)
Output:
- Connector: XLR-3M and 1/4" TRS Phone Jacks
- Type: XLR and TRS are True Balanced (may be used unbalanced)
- Nominal Level: XLR +4dBu; TRS +4dBu/-10dBV switchable
- XLR Output Z: 100 ohms
- 1/4" Output Z: 100 ohms @ +4dBu; 750 ohms @ -10dBV
- Maximum Output Level: >+26dBu before clipping
- Meter full scale: +24dBu
Analog Audio:
- THD: <0.05% @ +4dBu out
- Freq Response: 10 Hz to 30kHz +0.1/-1.0 dB
Digital Audio:
- Internal Sample Rates: 44.1KHz, 48KHz, 88.2KHz, 96KHz
- Resolution: 24 bits
- Level Equivalency: -20dBFS Digital = +4dBu Analog
Other Specs:
- Power requirements: 100-250 VAC 50-60 Hz
- Power consumption: 8W (max)
- Dimensions: 19"W x 1.75"H x 8.25"D; 1 Rack U (482.6mm x 44.5mm x 209.6mm)
- Depth Behind Front Panel: 7.5" (190.5mm)
- Net Weight: 6 lbs (2.73 kg)
- Shipping Weight: 9 lbs (4.1 kg)
Same Day Music is an authorized dealer of
Aphex
products.