Same Day Music is an
authorized Apple dealer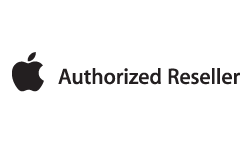 Life '05 -- the suite of tightly integrated applications that continues to lead the digital media revolution -- offers significant new versions of iPhoto, iMovie, iDVD, and GarageBand and the latest version of iTunes.
With iLife '05, the must-have upgrade for everyone who uses a Mac, you can easily create stunning softcover books; import, organize, and edit RAW photos; and stun them with fully customizable slideshows using iPhoto 5. Edit high-definition 16:9 video from the newest camcorders and create movies automatically with iMovie HD's new Magic iMovie feature. Drag and drop video clips, pictures, and music into the new animated drop zones found in iDVD 5 templates. Or create multi-track recordings in GarageBand 2. Of course, iTunes seamlessly integrates with iPhoto, iMovie HD, iDVD and GarageBand and syncs with every member of the iPod family. You won't find a better or easier-to-use set of creative tools than iLife '05.
iPhoto 5
Make photos picture perfect.
From stunning new softcover iPhoto Books (available in three sizes) to fully customizable, cinematic slideshows, iPhoto 5 lets you do more with your photos. In fact, it even lets you import RAW photos and use them throughout the application. Take video clips? iPhoto 5 imports them, too. iPhoto also helps you keep every photo in its place with new hierarchical folders that let you store multiple albums, iPhoto books and separate slideshows. You'll also enjoy more options for finding photos: a Calendar View, for locating photos by day, week, month or year; and a search field for lightning fast, iTunes-like searches. And wait till you try the new Advanced Editing Dashboard. With its tools, you can modify exposure, white balance, saturation, contrast and more. Even straighten those slightly off-kilter horizons.
iMovie HD
Turn home video into home cinema.
Are you ready for high-definition (HDV 720p and 1080i) 16:9 widescreen video? So is iMovie. Or, more accurately, iMovie HD. Though still as easy to use as ever, iMovie HD lets you import and edit video from the newest camcorders -- not just HDV cameras but the tiny and affordable flash media video cams, as well -- and in the latest formats, including HDV, MPEG-4 and 16:9 widescreen SDV. Dramatically increased performance lets iMovie HD move quickly through even the most complex projects, and new and improved tools let you edit quickly and easily. Take, for example, the Timeline. Now you can use it for all your editing, including rearranging clips. You'll also like the new Skywalker Sound audio effects and even more effects and transitions. And you're really going to enjoy creating movies automatically with the new Magic iMovie feature.
iDVD 5
Create stunning, Hollywood-style DVDs.
When it comes time to share your musical, cinematic or photographic accomplishments with others, there's no better way to do it than with a DVD. And when it comes time to author a DVD, you'd be hard pressed to find a faster, easier way to create Hollywood-style DVDs than with iDVD 5. For starters, iDVD 5 makes it easy to import movies, images and music via the built-in media browser or by dragging them from other iLife '05 applications. Beautiful new themes now include gorgeous animated drop zones that move across the TV screen, dazzling and delighting anyone who plays your latest DVD project. In a hurry? With iDVD 5, you can create a OneStep DVD, a one-click, camera- or videotape-to-DVD solution. And you can burn that project or others onto a wider assortment of DVD media, including DVD-R, DVD-RW, DVD+R, and DVD+RW.
GarageBand 2
Record your next big hit.
Since its introduction a year ago, GarageBand has made it easy for novice and experienced musicians alike to perform, record and create their own music. Now, without missing a beat, GarageBand 2 delivers an impressive encore performance, offering, for openers, multi-track recording. That means that you can now play the guitar and sing while recording both tracks at the same time. Or invite the band over to back you and lay down up to eight audio tracks at once. You can accomplish this feat using any audio input/output device compatible with Mac OS X. GarageBand 2 also provides built-in real-time music notation. And it includes smart recording features that let you enhance the tuning and timing of audio recordings (real instruments and vocals).
iTunes 4.7
Organize, share and enjoy your music.
Regarded by many as the world's best digital music jukebox for both Macs and PCs, iTunes also has another significant claim to fame: as the world's number one music download store, it offers you a choice of more than one million songs from all four major and more than 600 independent labels, and it's sold more than 300 million songs. iTunes not only manages your music remarkably well, it also automatically syncs your music to the growing iPod family, including the unpredictable new member of the clan: iPod shuffle. What's more, iTunes plays an essential role among the members of the iLife suite, too. Not only does iTunes serve as the conduit to iPod photo for iPhoto users, but it lends its library to iPhoto, iMovie HD and iDVD whenever a song or playlist is needed. And it serves an important function for GarageBand, letting you export the songs you create to your personal music library, where they can be burned to disc, added to playlists, transferred to iPod, shared via AirPort Express with AirTunes or used in other iLife projects.
Same Day Music is an authorized dealer of
Apple
products.
System requirements:
-- Macintosh computer with a PowerPC G3 (400MHz or faster), G4, or G5 processor
-- 600MHz G3 or faster required for GarageBand
-- G4 or G5 required for GarageBand software instruments and advanced photo editing in iPhoto 5
-- 733MHz G4 or faster required for iDVD
-- 1GHz G4 or faster required to use HD features of iMovie HD
-- 256MB of physical RAM (512MB recommended)
-- 512MB RAM required to use HD features of iMovie HD
-- Mac OS X v10.3.4 or later
-- Mac OS X v10.3.6 or later required to use HD features of iMovie HD
-- Mac OS X v10.3.6 or later required to work with RAW photos (iPhoto 5)
-- Display with at least 1024 x 768 pixel resolution
-- QuickTime 6.5.2 (included)
-- DVD drive required to install GarageBand and iDVD
-- Apple SuperDrive (or 733MHz G4 processor) required for iDVD
-- RAW requires a supported RAW-compatible camera
-- Compatible SuperDrive required to burn DVDs
-- 4.3GB of disk space required to install GarageBand, iTunes, iPhoto, iMovie and iDVD; or 250MB to install iTunes, iPhoto and iMovie only
iPhoto books and prints are available in the US, Canada, Japan, and select European countries
Streaming music via AirTunes requires an AirPort Extreme Card, AirPort Express Base Station (sold separately), and iTunes 4.6 or later
The iTunes Music Store is available only to persons above the age of 13 in the U.S., Canada, UK, France, Germany, and select EU countries
Package contents: DVD containing iPhoto, iMovie HD, iDVD, GarageBand, and iTunes; CD containing iPhoto, iMovie HD, and iTunes; printed and electronic documentation.
Same Day Music is an authorized dealer of
Apple
products.